All and Sundry Shows in 2014
Every year All and Sundry try and put on a broad range of shows to capture the the interest of our members and our wider audience. From Dazzling Pantomimes to gritty drama we hope there is something for everyone
Click on show name to see some details
Gallery
A selection of photographs from the show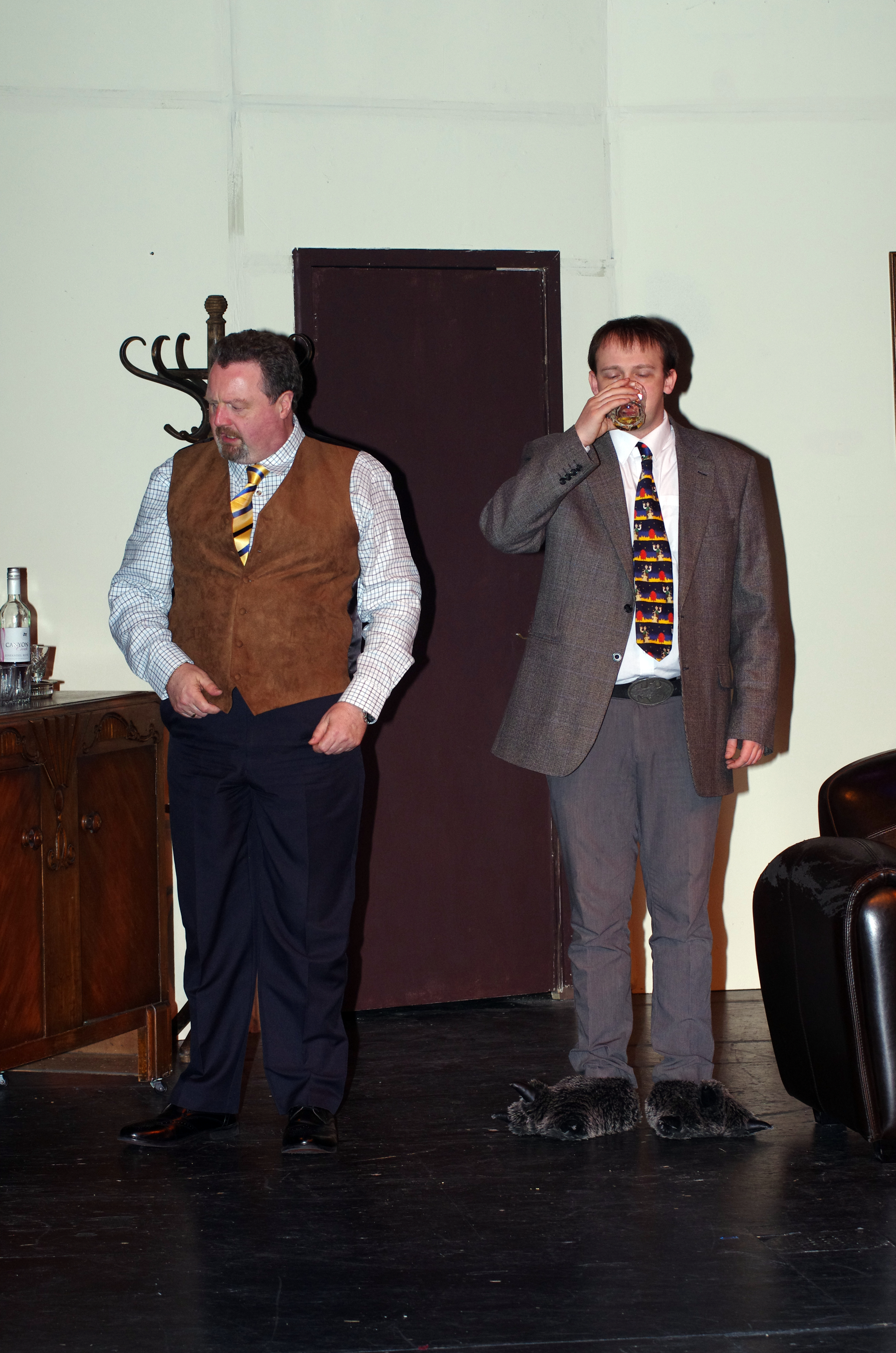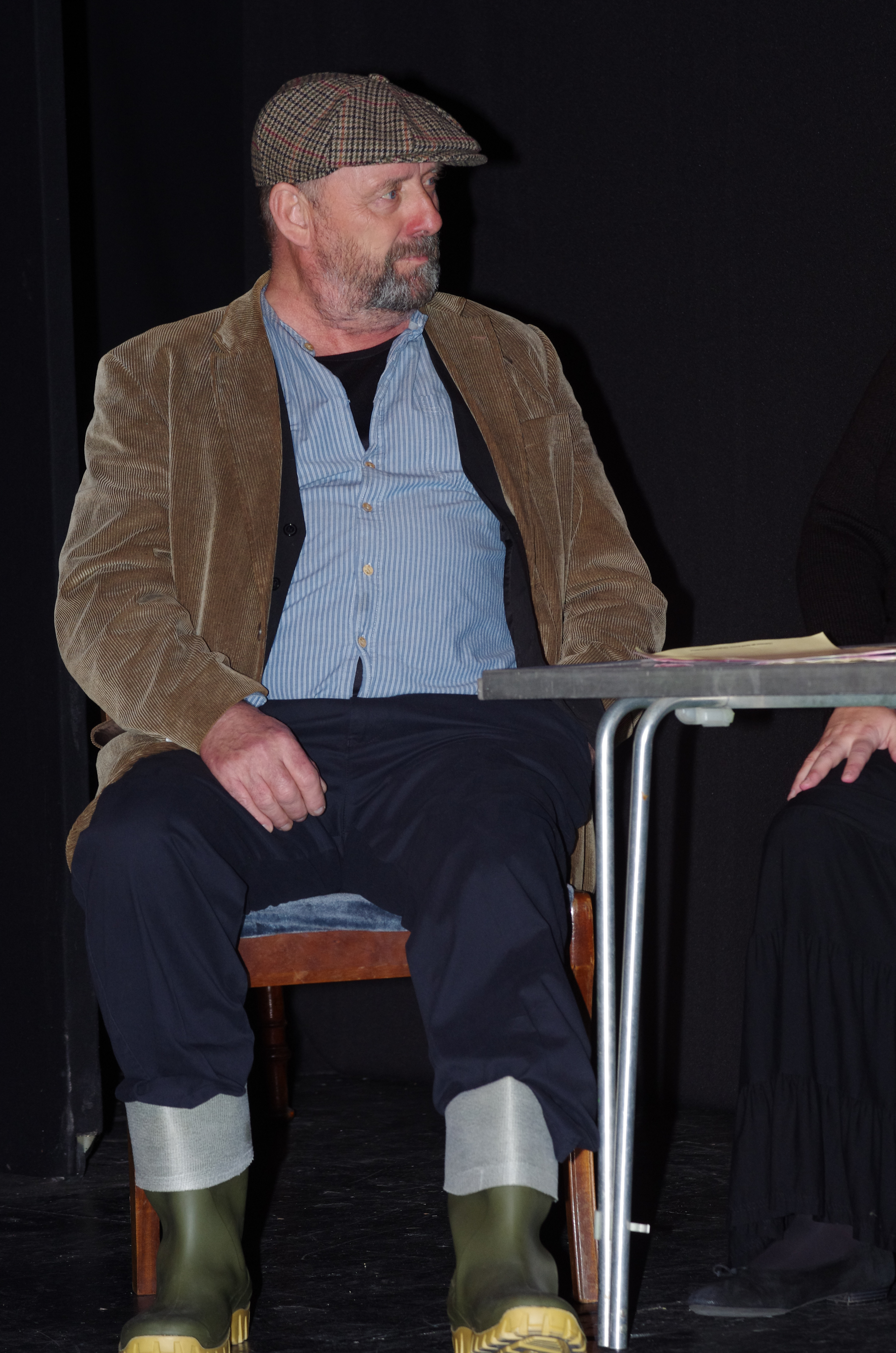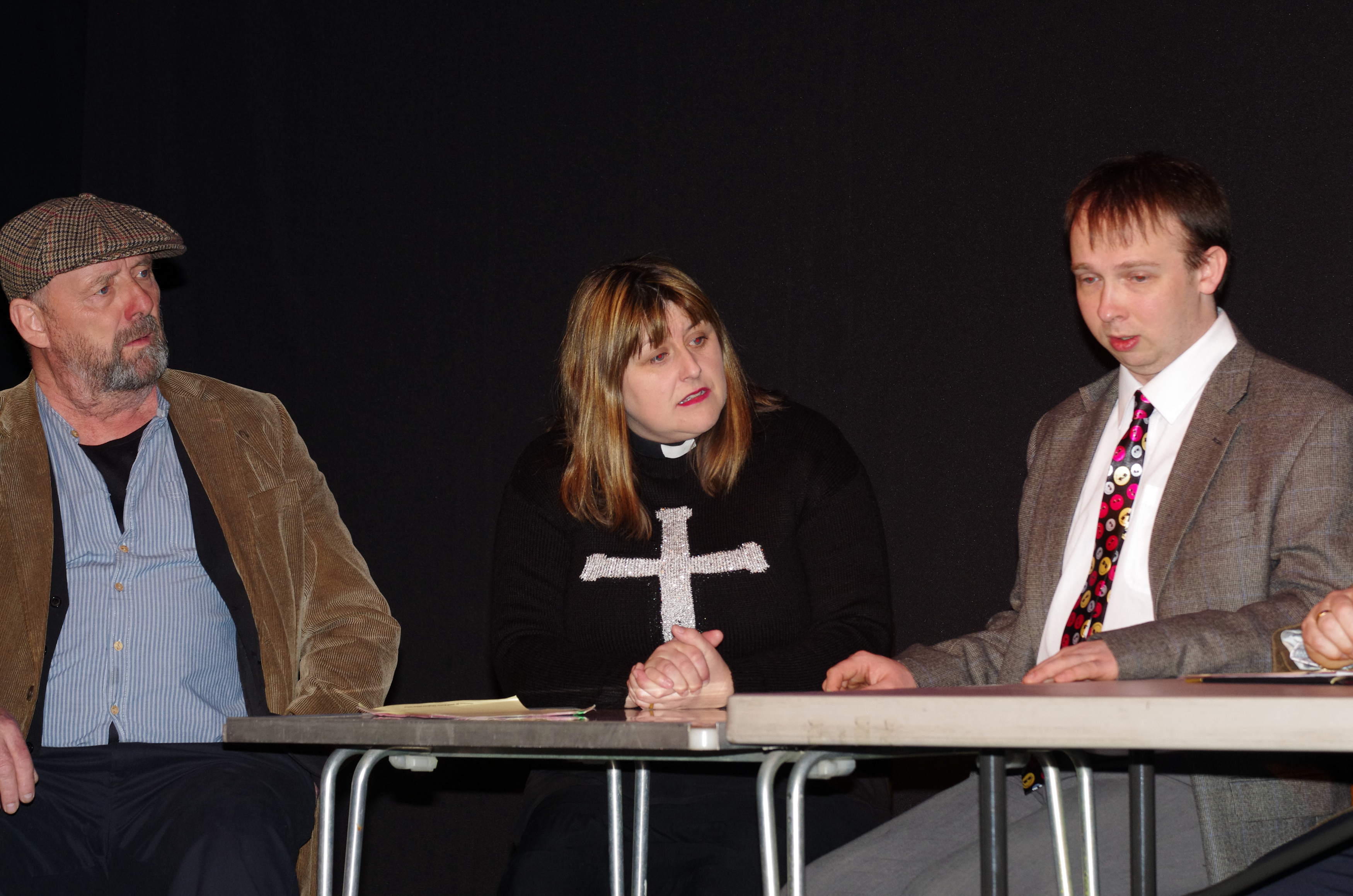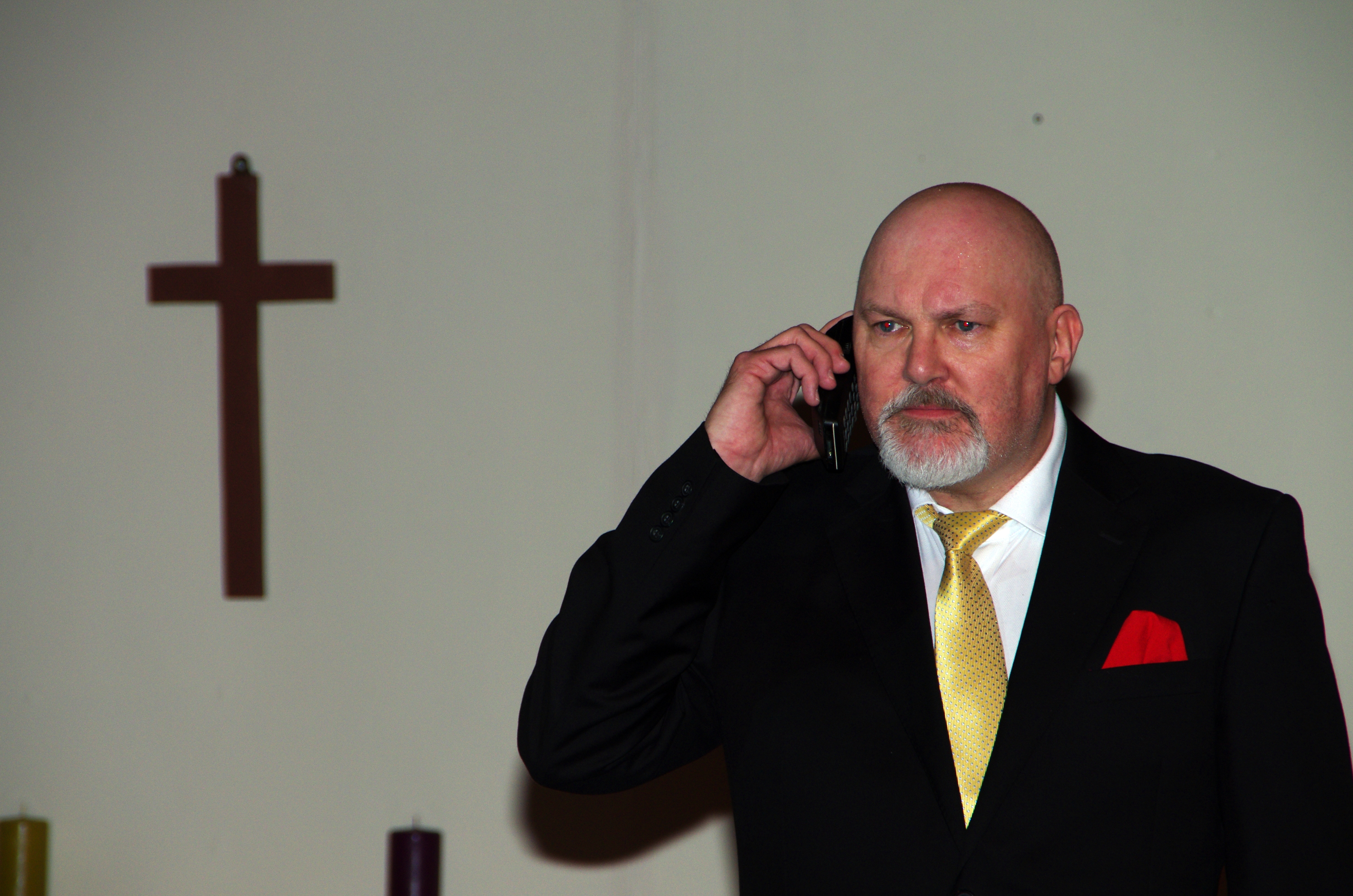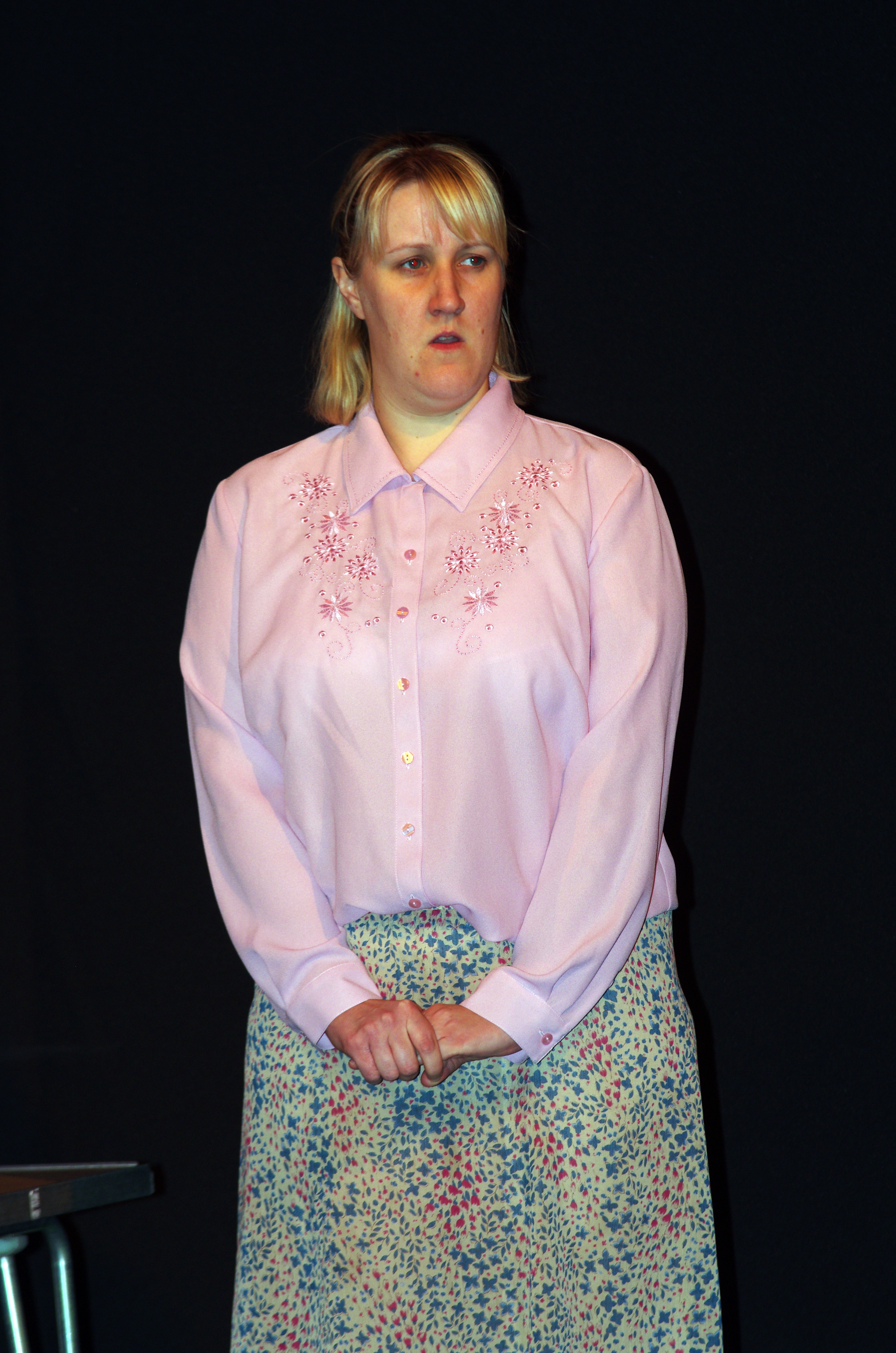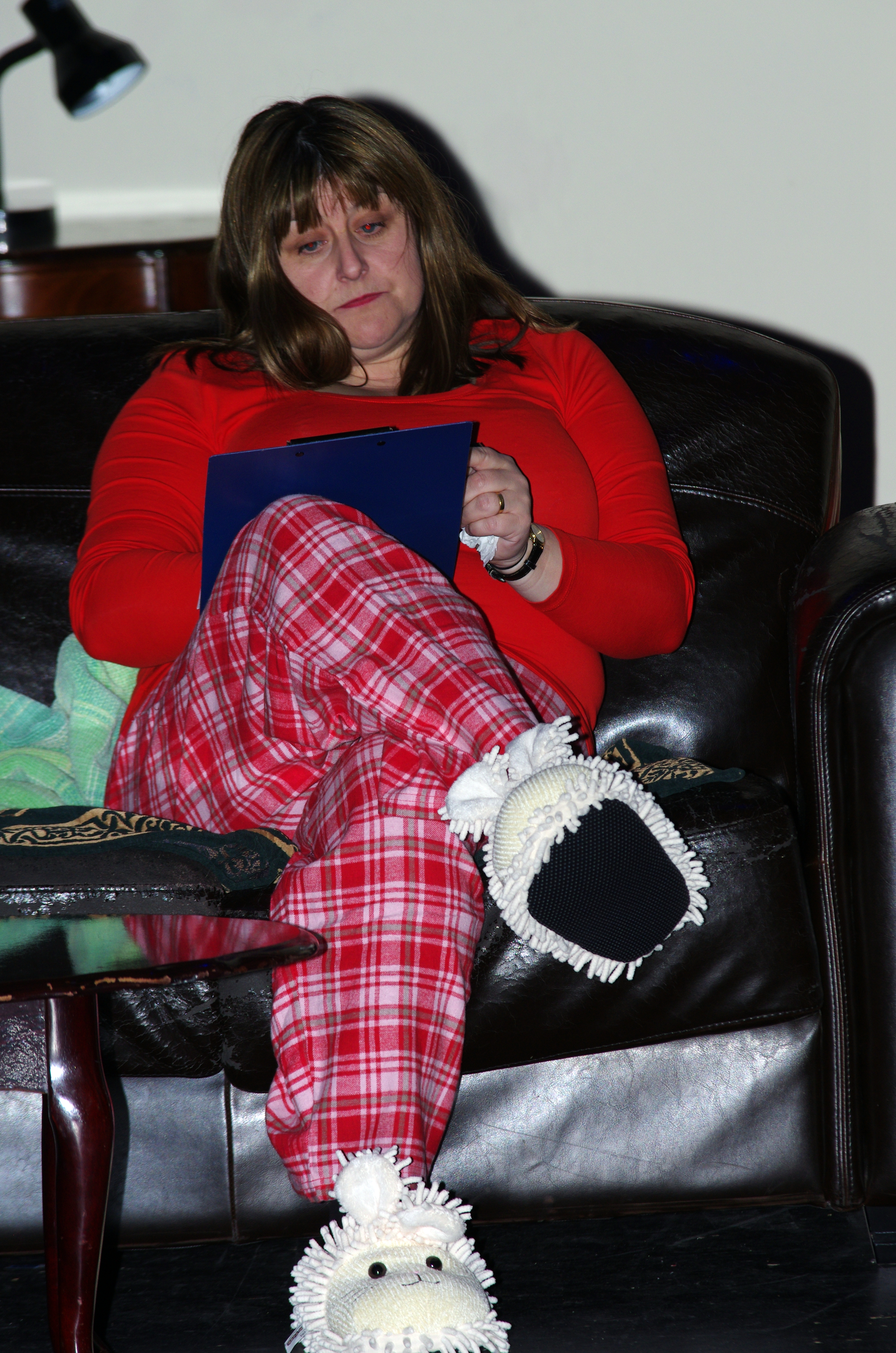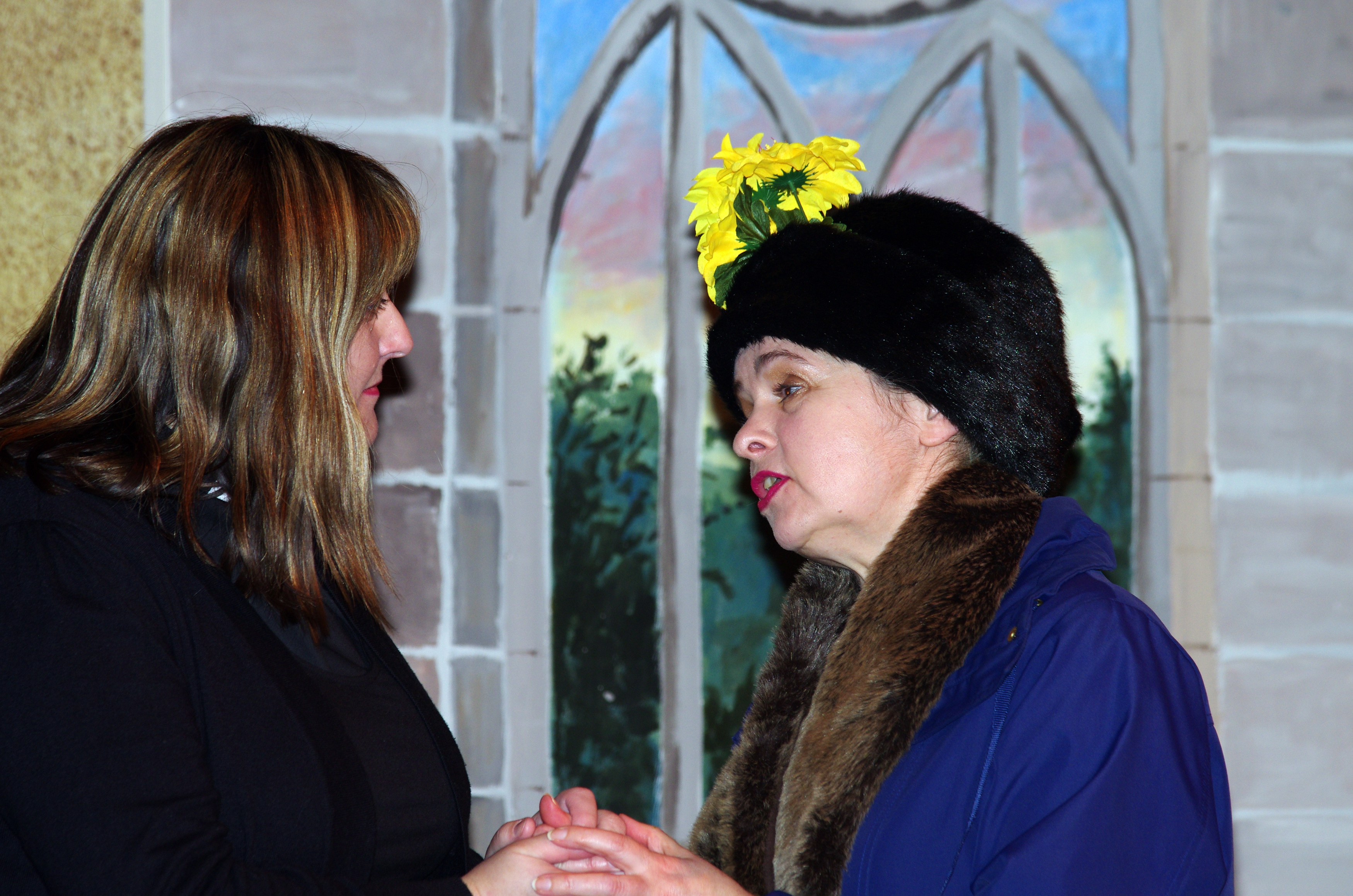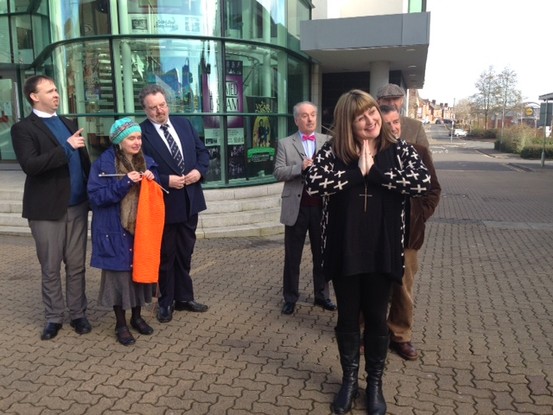 Use scroll bar to view Gallery
Reviews
AUDIENCES are being transported to the village of Dibley at Redditch's Palace Theatre by All and Sundry which is performing a stage version of the hit BBC TV series. In 2004 The Vicar of Dibley, which ran for six years - 13 if you count specials, was voted the nation's third favourite sitcom and watching this production you can see why. The great thing about it is that each of the episodes - Arrival, The Window and the Weather and The Easter Bunny - whilst packed full of great comedy and as charismatic characters as you could wish to meet, also have some very moving moments too. After seeing it on the small screen it takes some getting used to to see different actors undertaking the roles, but once past that, All and Sundry's cast provides some great entertainment. Vicar Geraldine Grainger was played by Dawn French - big shoes to fill - but Catherine Tabberner certainly rose to the challenge in the role. Her endearing and lovable portrayal was perfectly pitched which made this production the homely and heart-warming theatre it was written to be. The script is of course its main strength, but it needs an equally strong cast to deliver it and the cast did a great job to do Richard Curtis and Phil Mayhew-Archer's writing justice. There were solid performances across the board, with Graham Forbes impressing as the uppity and righteous David Horton and Ken Messenger was equally as good as uncouth farmer Owen Newitt. Emma Hay also shone as dippy verger Alice Tinker and the comedy chemistry between her and the vicar, especially in the scenes at the end of each episode that the programme became well-known for, was a joy to watch. The music chosen for the scene changes was clever and equally comedic, although those stage alterations could do with being quicker to prevent the pace of the piece from slowing. It was also a nice touch to get a local choir - from St Mary de Wych in Wychbold - to provide the hymn-singing soundtrack. Overall this is a production well worth watching and God bless those who go to see it.

Vicar of Dibley
Palace Theatre, Redditch
Wed 19 Mar to Sat 22 Mar
Dibley, a small Oxfordshire village, is assigned a female vicar following the changes in the Church of England that permitted the ordination of women. In ratings terms, the programme is among the most successful in the digital era and has also received multiple British Comedy Awards. With a wealth of hilarious characters including David Horton, pompous chairman of the Parish Council; Alice Tinker, dippy church verger; Hugo Horton, David's sweet-natured yet dim-witted son; Frank Pickle, the likable but boring and pedantic secretary of the parish council; Jim Trott, openly promiscuous with a penchant for young blondes and Eastern beauties; and Owen Newitt, the flatulent farmer with questionable attitudes towards his animals. This production comprised of the episodes "The Arrival", "The Window and the Weather", and "The Easter Bunny"
Cast
Reverend Pottle/Villager
Bob Wilkes
Alice Tinker
Emma Hay
David Horton
Graham Forbes
Frank Pickle
Tony Boardman
Jim Trott
Roger Goddard
Mrs Cropley
Cathy Stokes
Hugo Horton
Ed Butler
Owen Newitt
Ken Messenger
Geraldine
Catherine Tabberner
Daniel Frobisher/Milkman
Mike Richardson
Creatives
Director
Mike Jeffrey
Producer
Victoria Vollans
Assistant Director
Kim Balsom
Stage Manager
Brian Wiggins
Sound
Simon Wicks
Lighting
Palace Theatre
Back Stage Crew
John Edwards-Bick, James McGhie David Green, Paige Conlon Neil Lane, Cast Members
Wardrobe
Alison Berrisford and Cast Members
Props
Alison Berrsford, Cast Members
Set Design
Mike Jeffrey
Set Construction
Howard Vollans, Brian Wiggins Roger Goddard, James McGhie David Green, Tina Cross-Watson Rob Treen, Neil Lane Members of the Cast
Scenery Artwork
Roger Goddard
Publicity
Brain Wiggins, Andrew Corcoran
Photographer
Jamie Hubbard, Charlie Tabberner
Choir
Choir and Musicians of St Mary de Wych Church, Wychbold
Original Music
Howard Goodall - The lord Is My Shepherd - with arrangement by Graham Forbes
Programme
Simon Wicks
Front of House
Victoria Vollans, Barbara Treen Vanessa Morgan, Alison Berrisford Ian Kimberley-Ryan, Denis Teale Tina Cross-Watson, Karl Cross-Watson Linda Scerri, Sheila Proudfoot
Transport
Amdac-Carmichael Ltd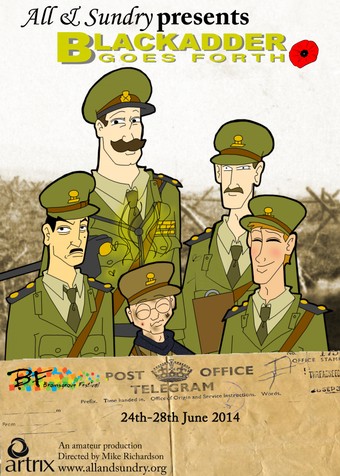 Gallery
A selection of photographs from the show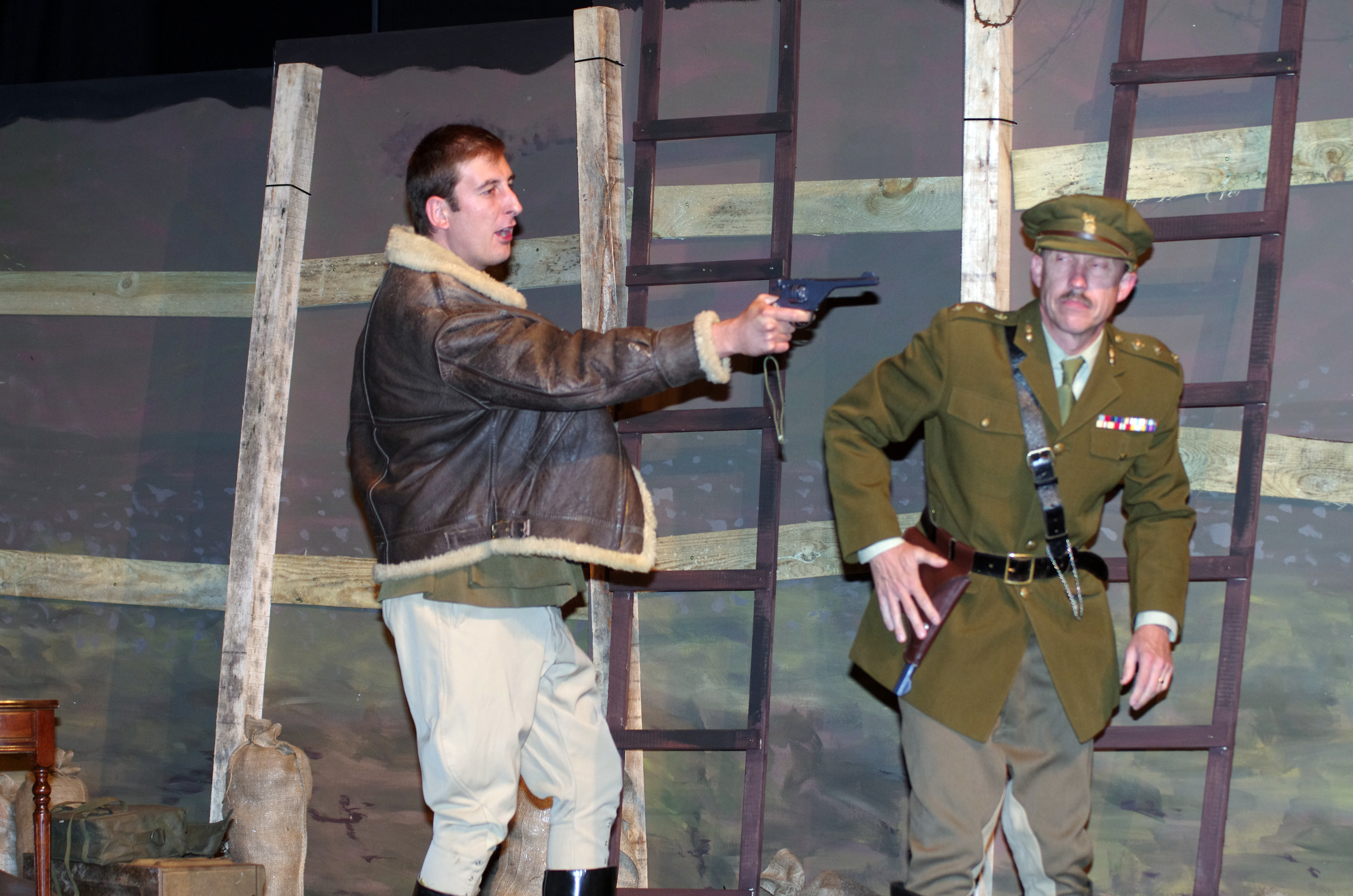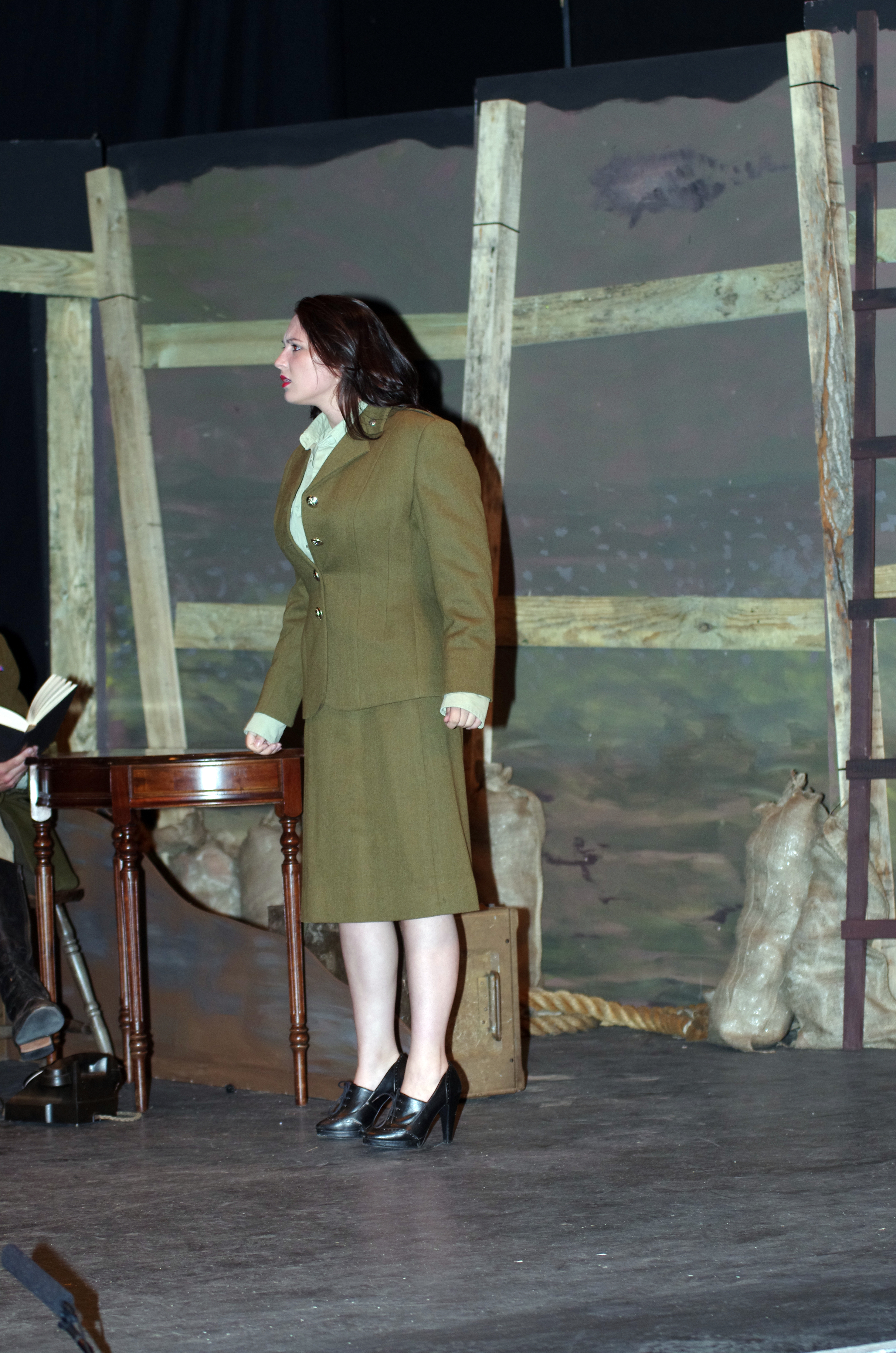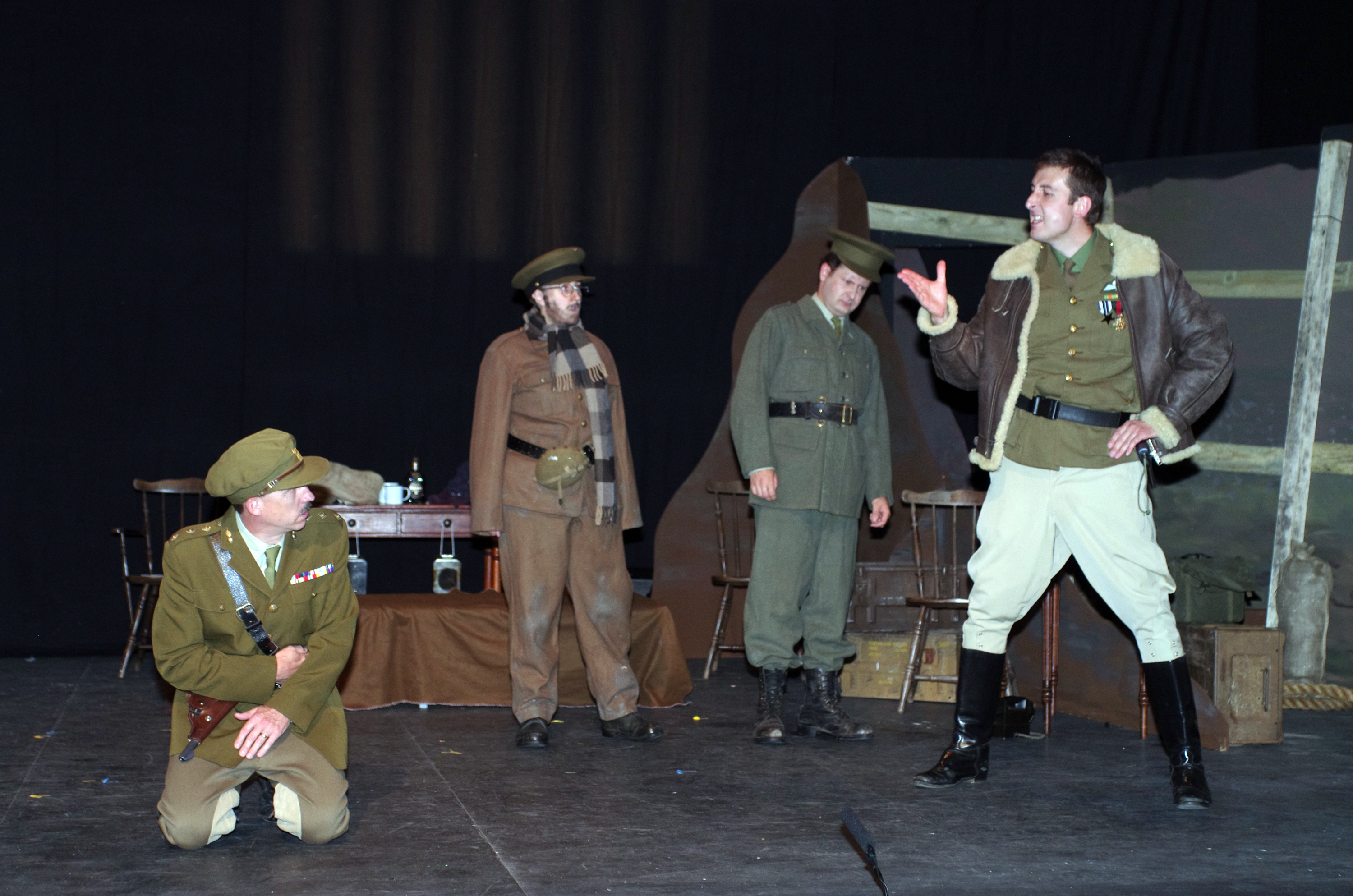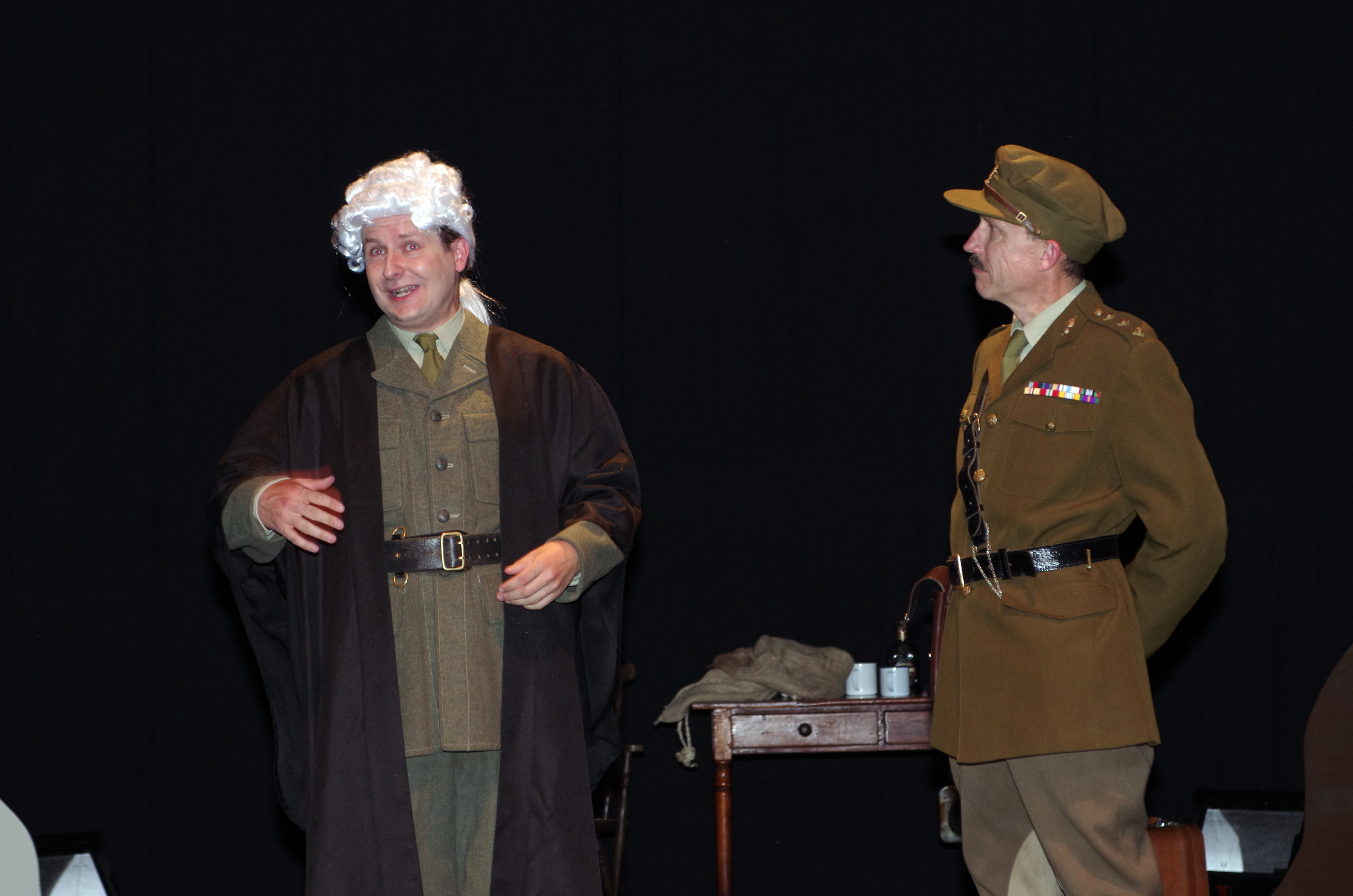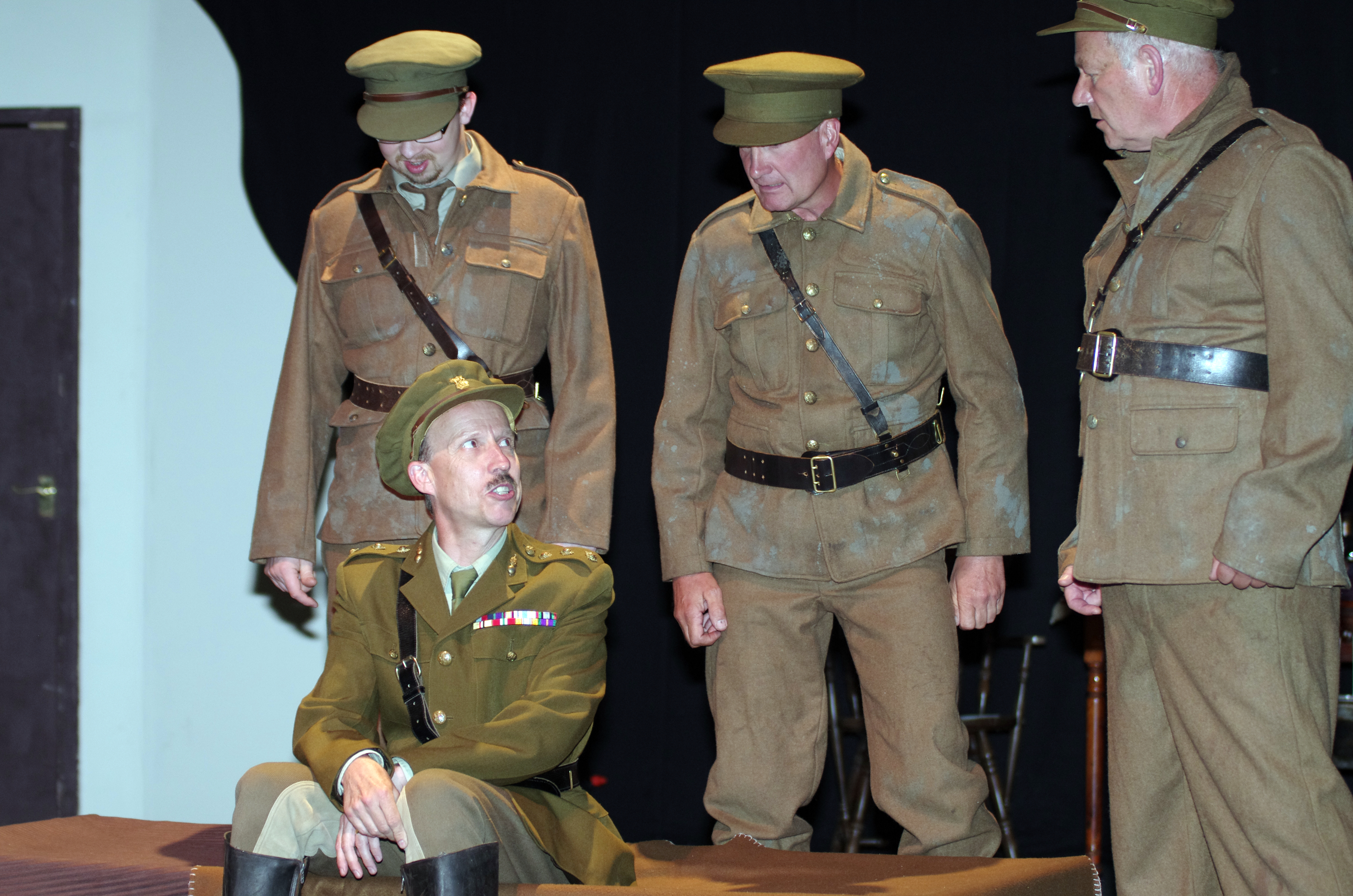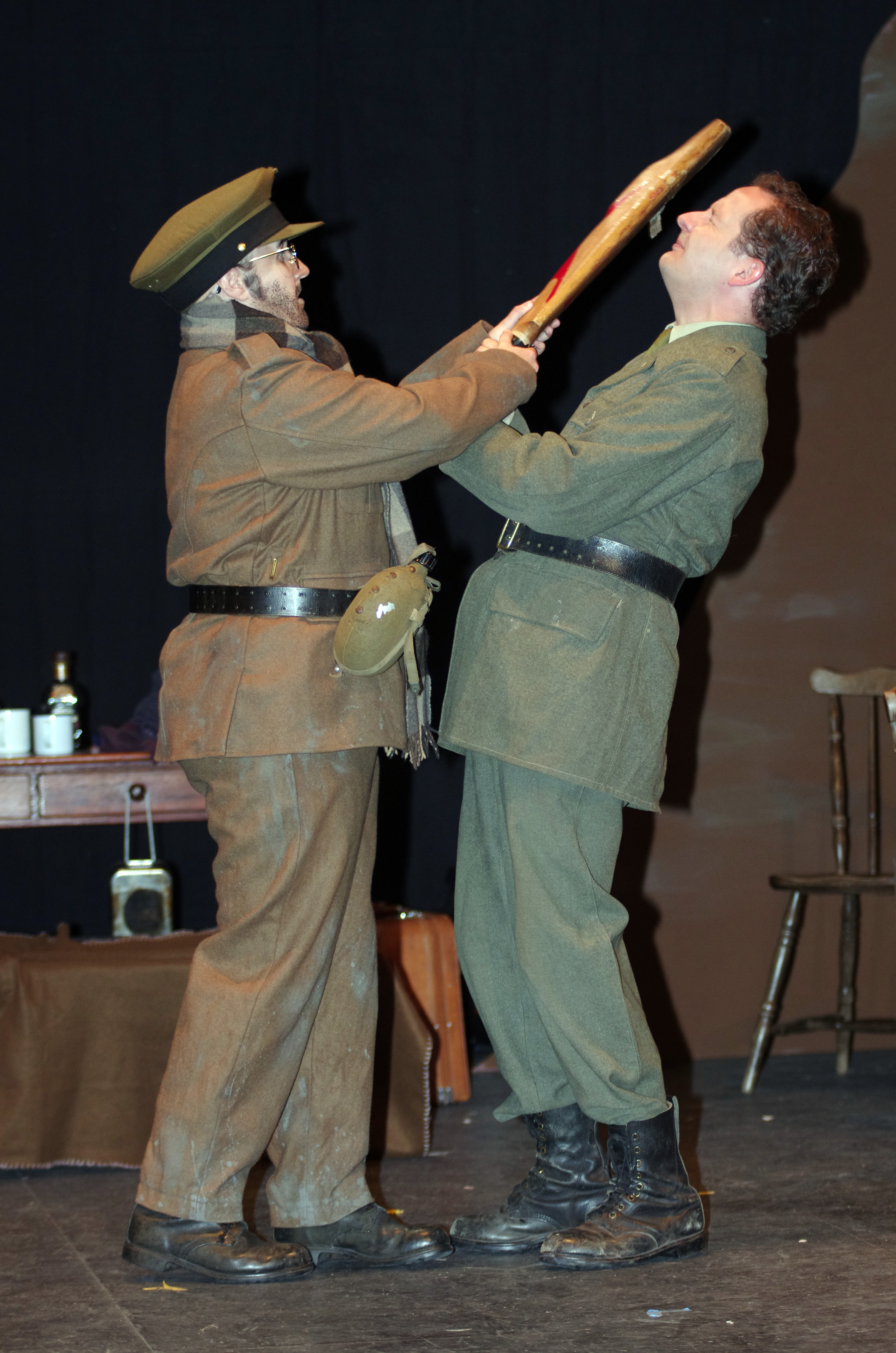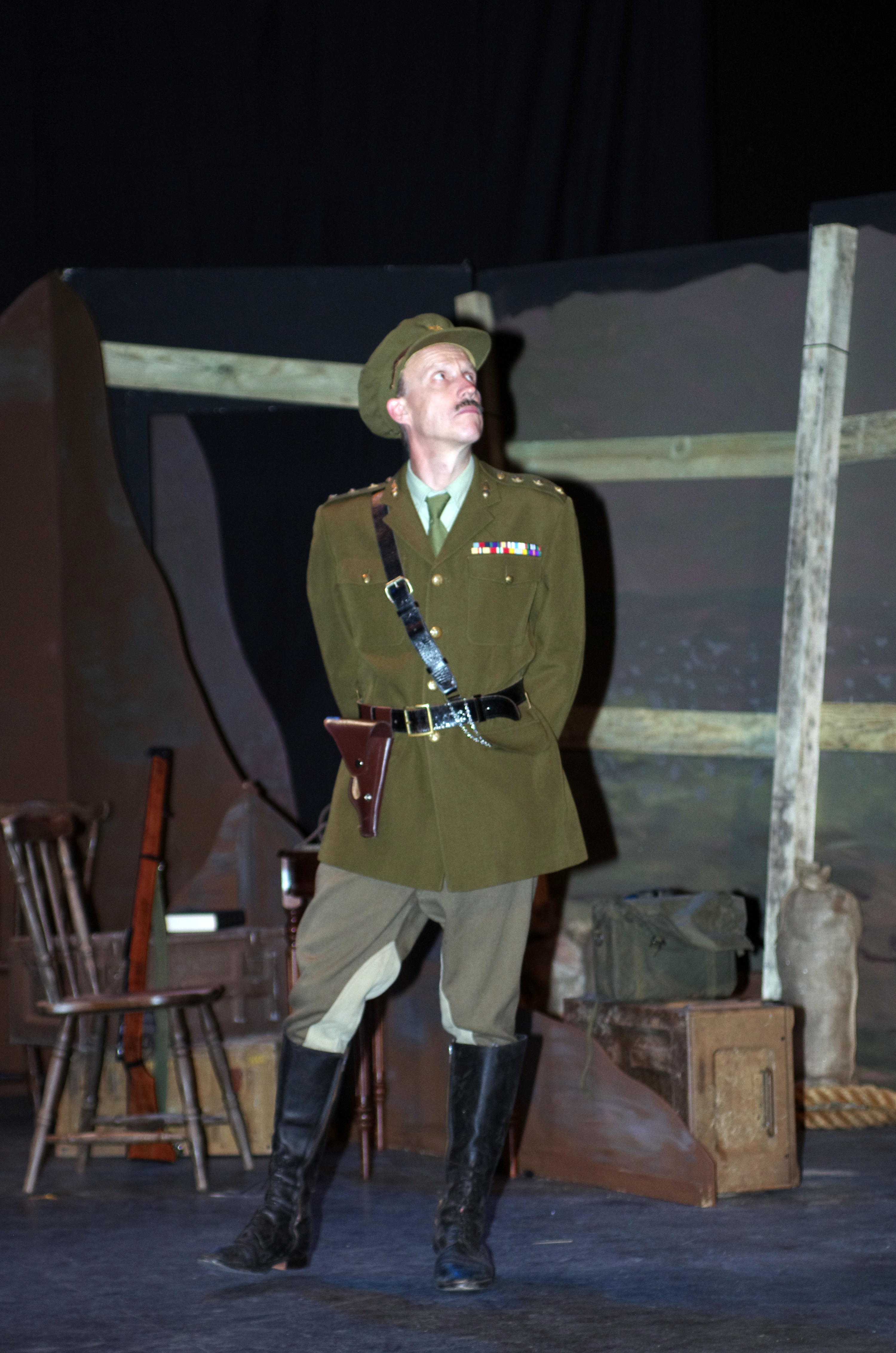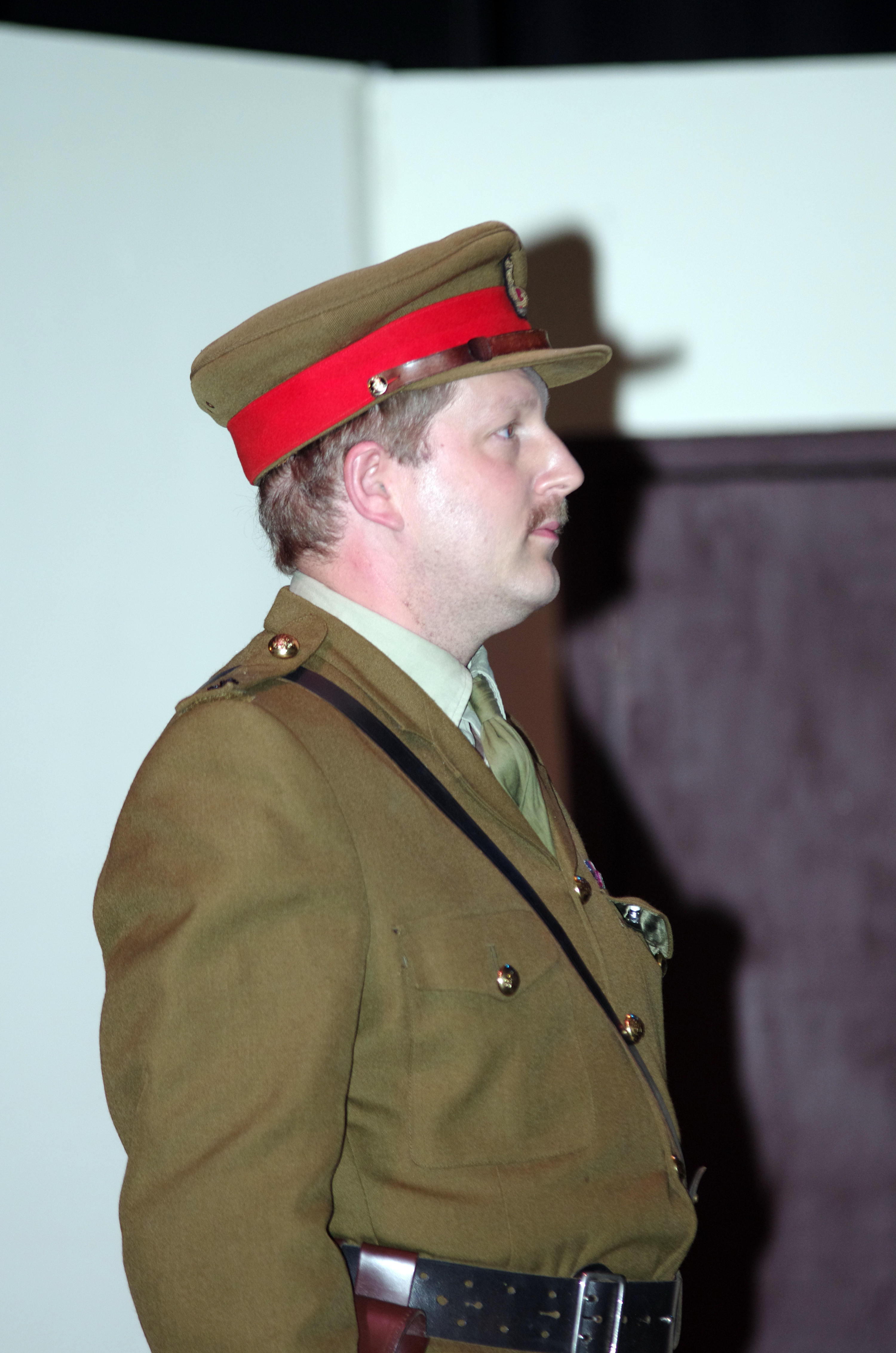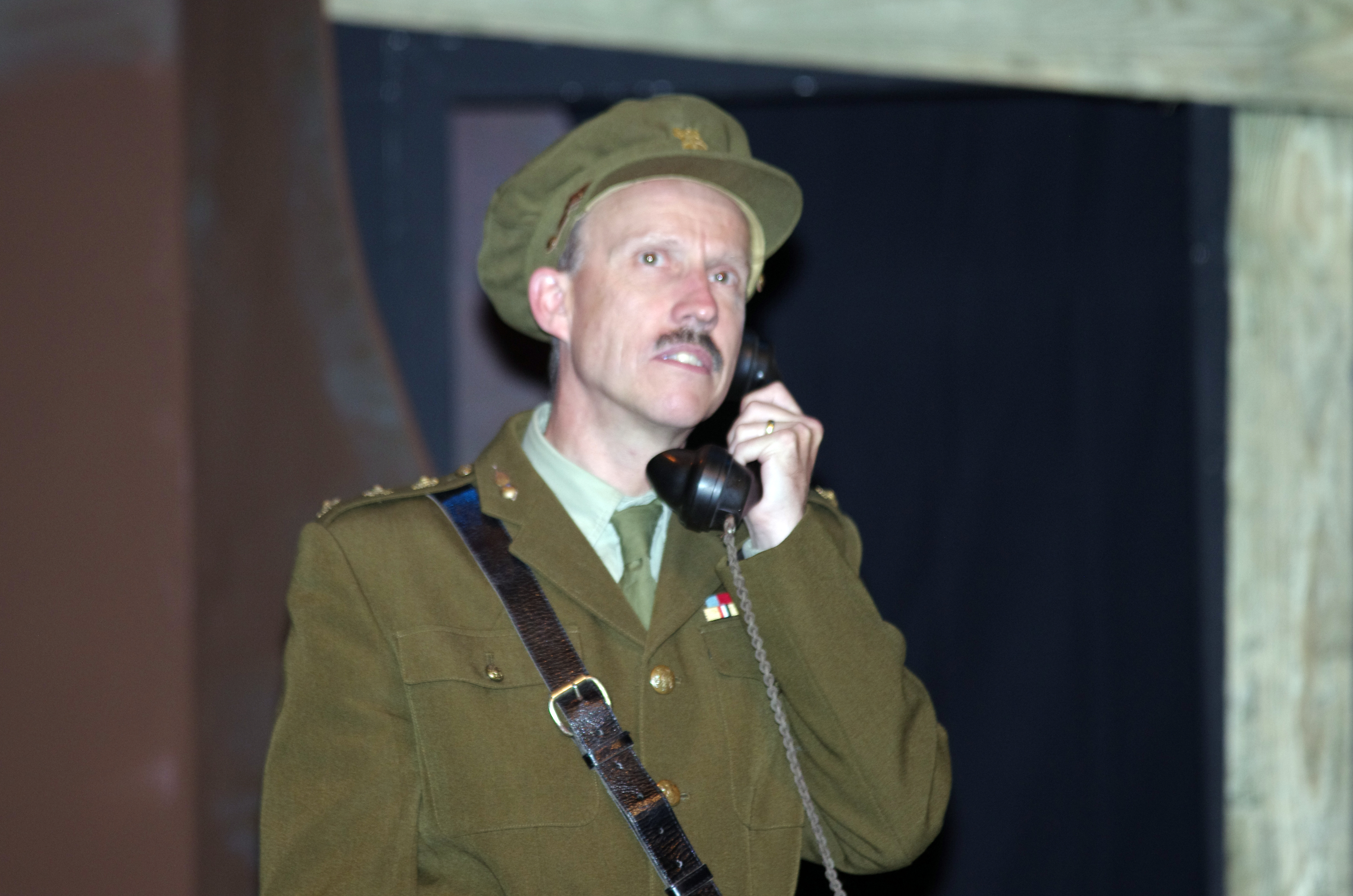 Use scroll bar to view Gallery
Reviews
A TALENTED All and Sundry cast put on a breath-taking performance of Blackadder Goes Forth at Bromsgrove's Artrix. The poignant production, set in the trenches of the First World War, was chosen by the group to mark the centenary year of the conflict in which millions of people were killed. And the show was perfectly produced by Mike Richardson and assistant Vanessa Morgan, so much so that during the sombre scenes, you could hear a pin drop in the auditorium. The first rule of comedy - as any writer will tell you - is that you always have a happy ending for your main characters. But Blackadder Goes Forth bucks that trend and to great effect - it could not have been more powerful. The main characters - Blackadder, Baldrick, George and Darling - were massacred in the final scene and the way this was done would have had even the hardest of audiences filling up. A screen came down and the four fallen soldiers were silhouetted against a white background as they met their fate. Almost straight after, the screen changed to show a field of red poppies and the famous In Flanders Field was read aloud. After those words were read, the curtains closed and the lights came up with no usual walkdown for the audience to thank the cast. But, the front of house was used tremendously by the group - as the croed filed towards the door, the characters were there stood to attention in the foyer and, rightfully, received a standing ovation. The show illustrated the fear which must have been felt by those fighting the First World War and some of the scary situations that must have arose between 1914 and 1918. But, despite the poignancy and power of this production, there was plenty of laughter-filled moments as well. Among the highlights were when Blackadder shot Melchett's prize pigeon Speckled Jim which brought plenty of hilarity, along with a court martial for the main character. Another was when Blackadder met the firing squad which was due to kill him the following morning and the arrival of Lord Flasheart. There were solid performances on the night by Graham Forbes as the arrogant Melchett and Emma Hay as the bungling Baldrick. Alan Feeney was perfectly posh as the (excuse the pun) over the top George and Mark Clayton was superbly and suitably sarcastic as Blackadder. But the performance of the evening was by Nick Whitehouse as randy RAF pilot Lord Flasheart, a part played in the hit sitcom by late legend Rik Mayall. The tales of his antics with various women were real laugh out loud moments, so much so you could have watched him on stage all night long. To put on a production of Blackadder Goes Forth in the centenary of the First World War was a master stroke by All and sundry which had to make a personal request to Richard Curtis so they could put together this stunning stage version of the TV script. And it was a truly amazing and beautifully adapted piece of theatre which brought tears of laughter and sadness in equal measure.

Blackadder Goes Forth
Artrix, Bromsgrove
Tue 24 Jun to Sat 28 Jun
Three episodes from the Hit BBS Show
Cast
Blackadder
Mark Clayton
Baldrick
Emma Hay
George
Alan Feeny
Darling
Matthew Fearnley
Melchet
Graham Forbes
Flasheart
Nick Whitehouse
Bob
Poppy Cooksey
Baron Von Richtoven / Sergent Jones
Dave Healing
Private Robinson
Royston Watton
Private Tipplewick / Guard
Ed Butler
Creatives
Director
Mike Richardson
Producer
Victoria Vollans
Assistant Director
Vanessa Morgan, Jannet Allen
Stage Manager
Brian Wiggins
Sound
Simon Wicks
Lighting
Chris Lee (Artrix)
Back Stage Crew
Martina Ponsonby, James McGhie Davis Green, Staci Marshall Neil Lane, Jenny Onley
Wardrobe
Alison Berrisford, Cast Members
Props
Victoria Vollans, Cast Members
Set Design
Mike Richardson
Set Construction
Howard Vollans, Brian Wiiggins Roger Goddard, James McGhie David Green, Neil Lane Members of the Cast
Scenery Artwork
Roger Goddard
Publicity
Brian Wiggins
Photographer
Jamie Hubard
Original Music
Blackadder theme music and Dambuster performed by the Blackwell Concert Band and recorded by Simon Wicks
Programme
Simon Wicks
Front of House
Tony Boardman, Victoria Vollans David Green, Barbara Treen Rob Treen, Roger Goddard Tina Cross-Watson, Karl Cross-Watson
Special thanks
Bob Wilkes for his voice over contribution
Transport
Amdac-Carmichael Ltd
Recording Equipment Supported by
Courtyard Music, Tardebigge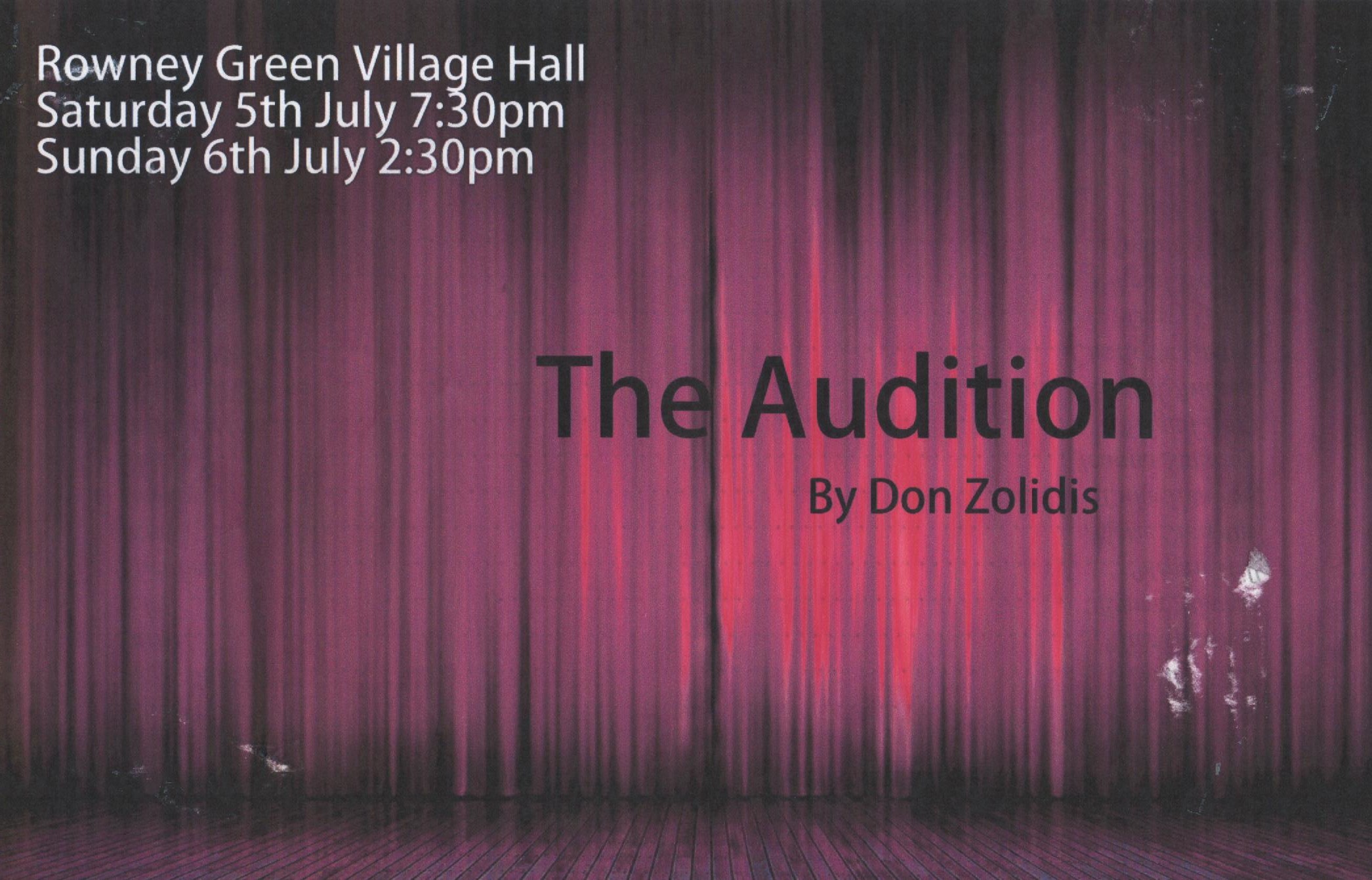 The Audition
Rowny Green Peace Hall
Sat 05 Jul to Sun 06 Jul
A Small & Sundry production
Cast
Mr. Torrance
George Andress
Stage Manager
Emily Birch
Carrie
Emma Stevens
Soleil
Laury Wiggins
Elizabeth
Megan Hill
Sarah
Katie Steward
Tommy
Luke Henning
Gina
Joanna Simpson
Carrie's Mom
Abigail Lake
Elizabeth's Mom
Rachel Andress
Alison's Mom
Charlotte Gough
Marisa
Daisy Green
Cassie
Abigail Hollick
Jasmine
Sophie Smith
Pheobe
Chloe Biddle
Timmy
Harry Langley
Yuma
Emily Haden

Reviews

Powerful production at the Palace was spine-tinglingly terrific By Tristan Harris Saturday 13 September 2014 Updated: 13/09 05:25 THE AUDIENCE in The Palace Theatre's Room Upstairs was told a spine-tingling tale for All and Sundry's latest offering. It centres around Julia Darrow who is the secret lover of John Bennett until he dies in a car crash they are involved in. His busybody wife Margaret, apparently unaware of the situation, just wants to meet the person who was with him when he died and takes it upon herself to look after Julia and nurse her back to health. But, while all this is going on, along with interruptions from do-gooder Gary and social worker Anne, something strange is happening behind the scenes. This powerful play was really brought to life by the four-strong cast and, apart from a few laughs at the intended smatterings of comedy, you could hear a pin drop in the auditorium. The setting for this piece was key and it was clear why director Vanessa Morgan, who did a wonderful job, chose the Room Upstairs. The intimacy of the small venue meant those watching went through every emotion with the characters and plenty of gasps could be heard as the thought-provoking plot unfolded. Roy Watton as hapless but caring Gary and Kim Balsom as social worker Anne kept the plot ticking along nicely (along with the ticking sound effect which became over-familiar with the audience to illustrate the passing of time). Cathy Stokes played Julia amazingly and, in such a way that, although she was the cheating one, you empathised with her and were hoping all the madness surrounding her - created by the other characters - would go away so she could be left in peace. But the best performance of the night was by Barbara Treen as John's wife Margaret. She conveyed the sinister character perfectly throughout with - very often - her actions and body language saying just as much as the words she spoke. You got the sense she knew what had been going on all along and, with this underlying tension, you felt she could strike at any moment. By the end, she was the epitomy of evil and brought a cracking conclusion to the perfect and powerful production.

Dead Guilty
Artrix Studio, Bromsgrove and The Room Upstairs, Palace Theatre Redditch
Sat 06 Sep to Sat 13 Sep
When John Haddrell dies of a heart attack at the wheel of his car, the woman at his side is not his wife Margaret but his lover, Julia. Recovering from the injuries she sustained in the ensuing crash, Julia is visited by Margaret, who apparently knows nothing of the affair. Events take a sinister turn when Margaret begins to encroach on Julia's life. Left alone in the house together, Julia and Margaret are locked in deadly combat.
Cast
Julia
Cathy Stokes
Margaret
Barbara Treen
Gary
Roy Watton
Anne
Kim Balsom
Creatives
Director
Vanessa Morgan
Assistant Director
Jannet Allen
Stage Manager
Mike Richardson
Lighting and Sound
Simon Wicks, Rob Treen
Poster Design
Graham Forbes

Gallery
A selection of photographs from the show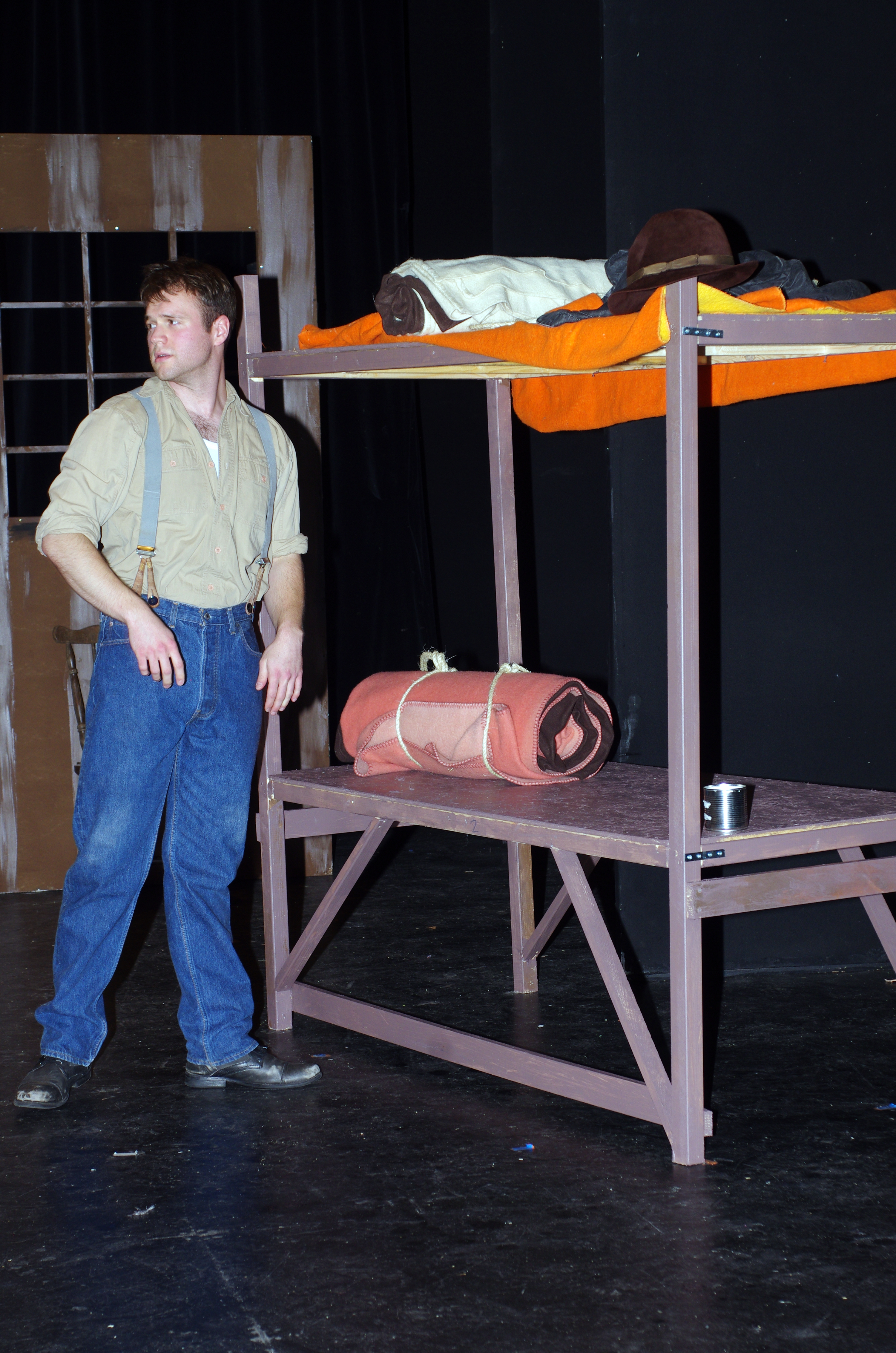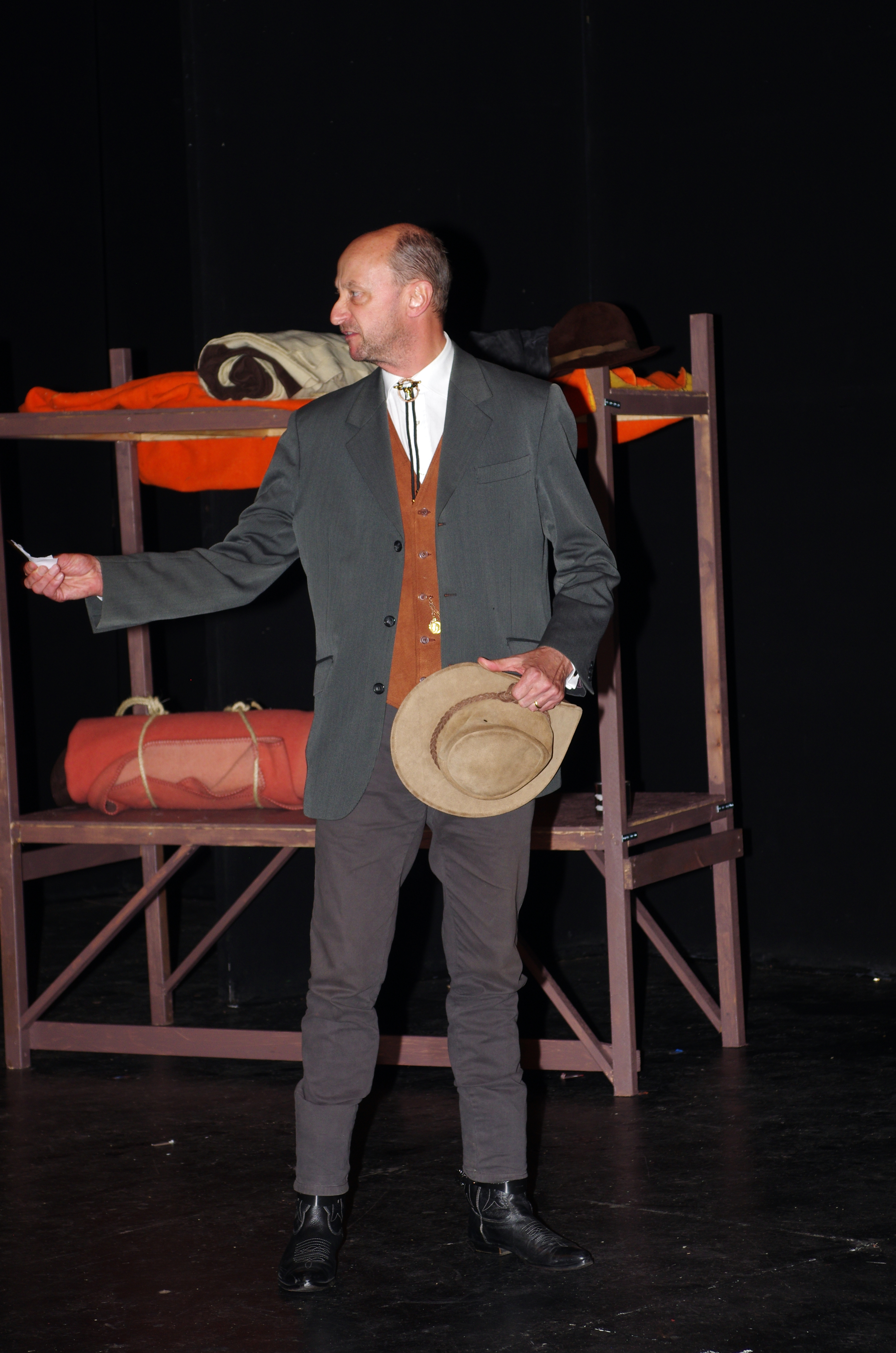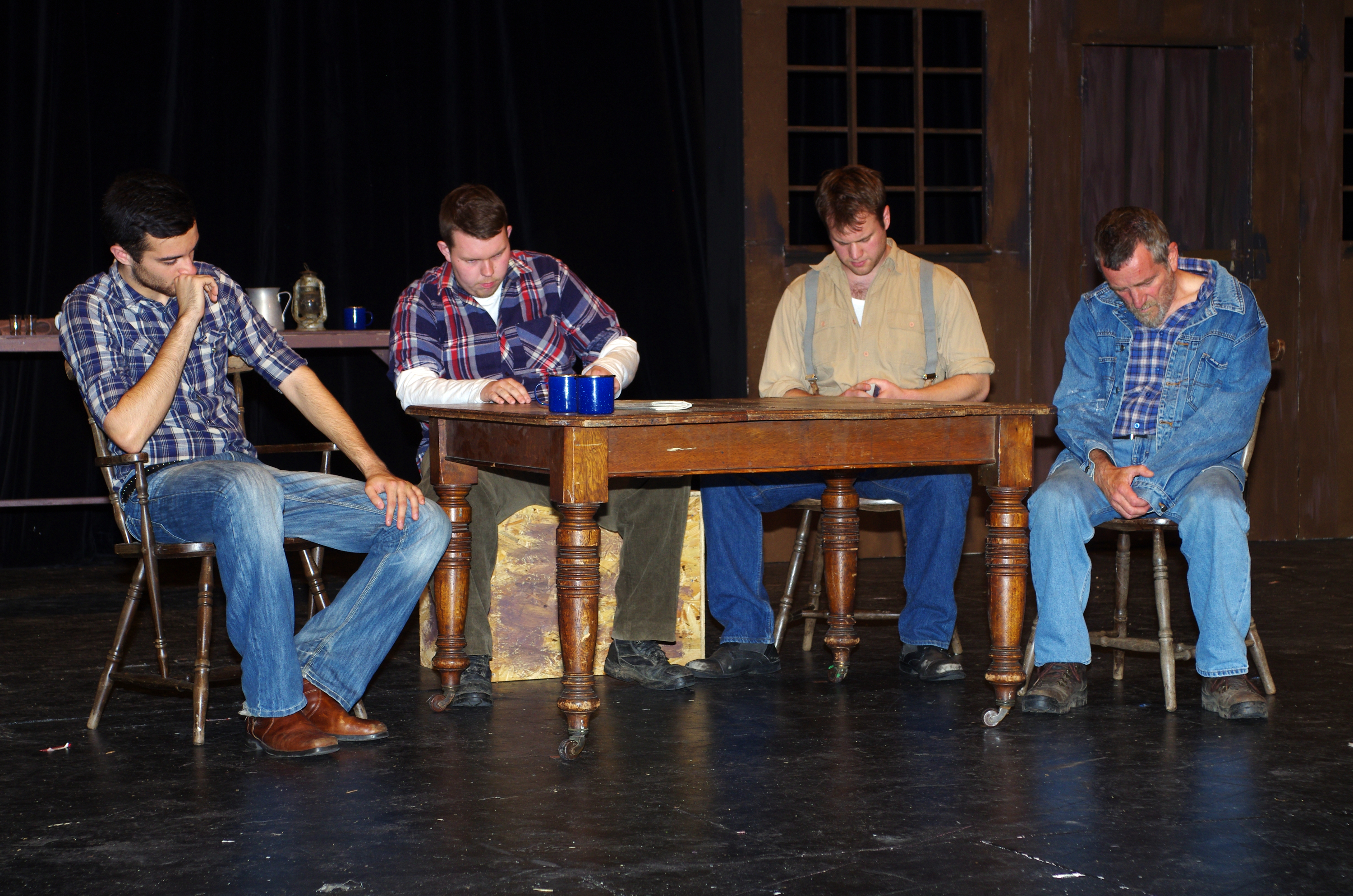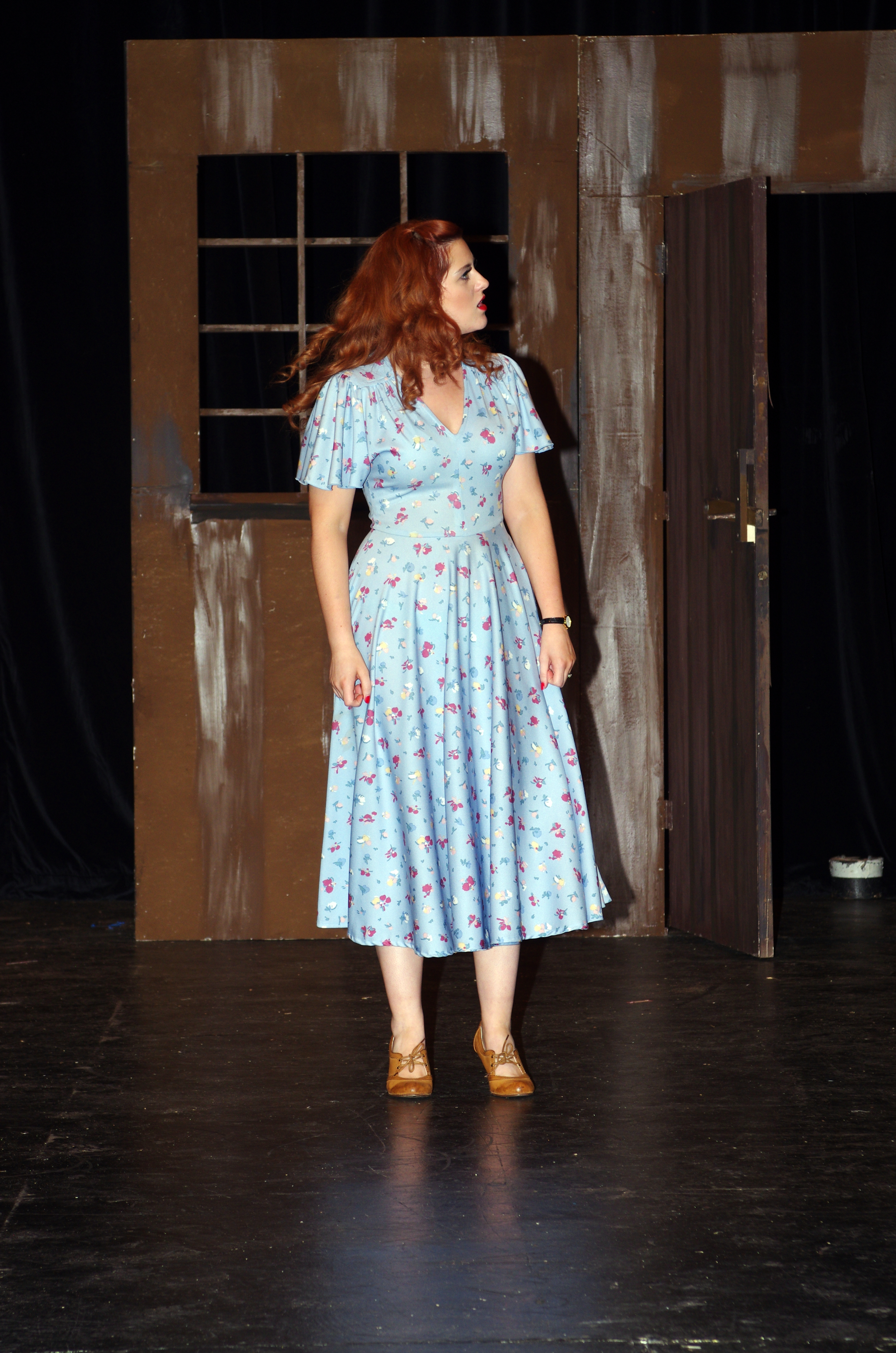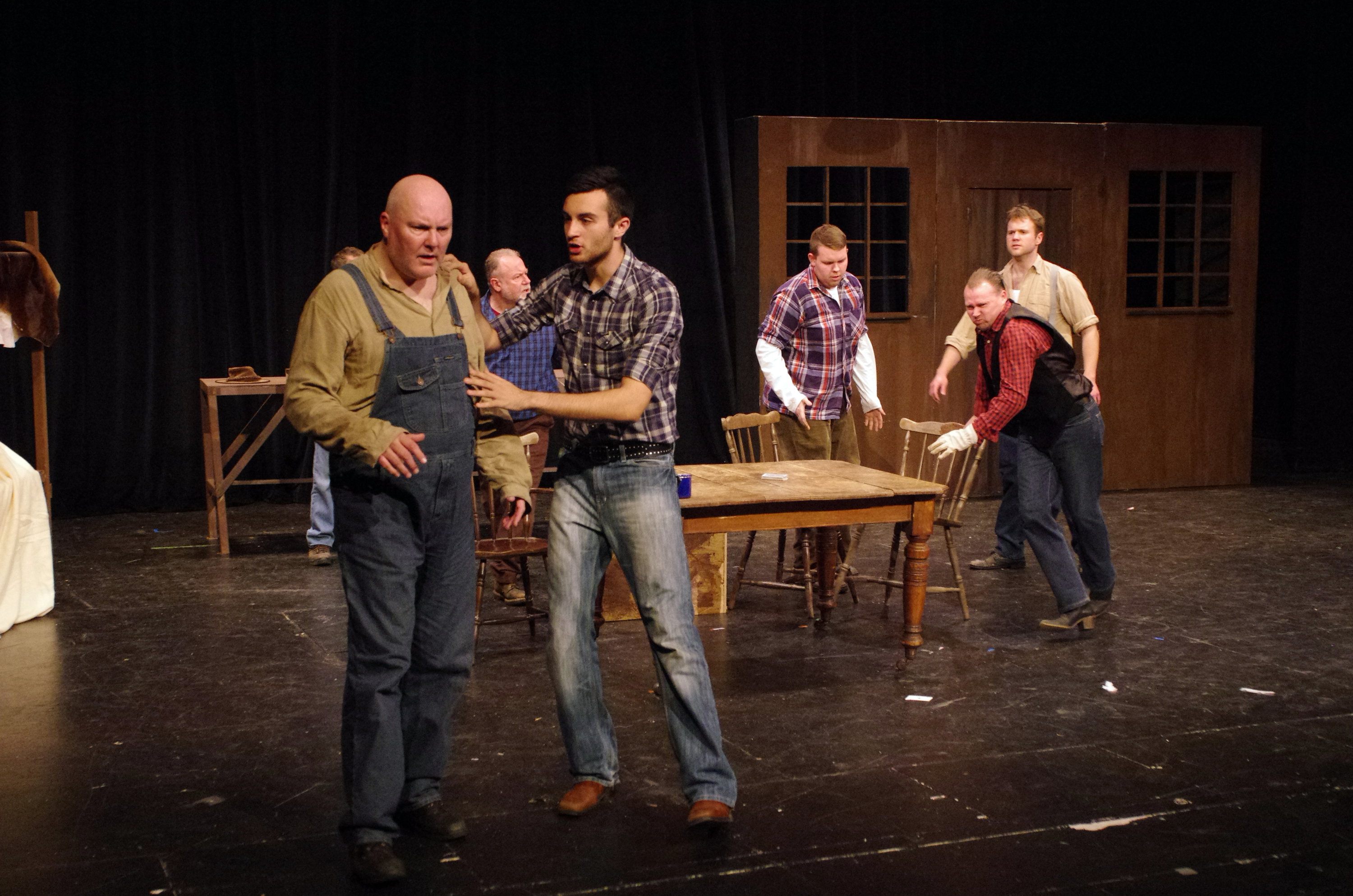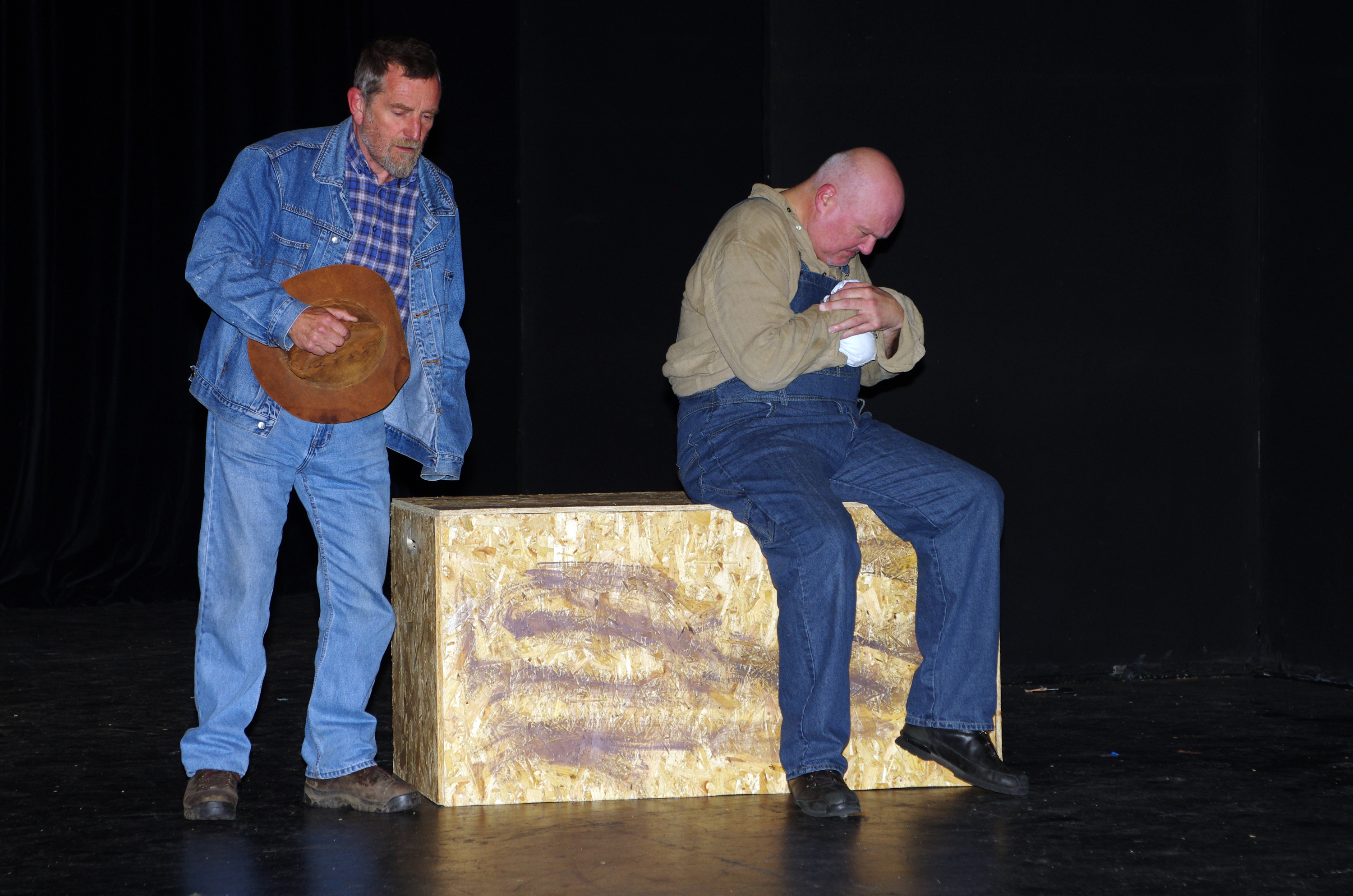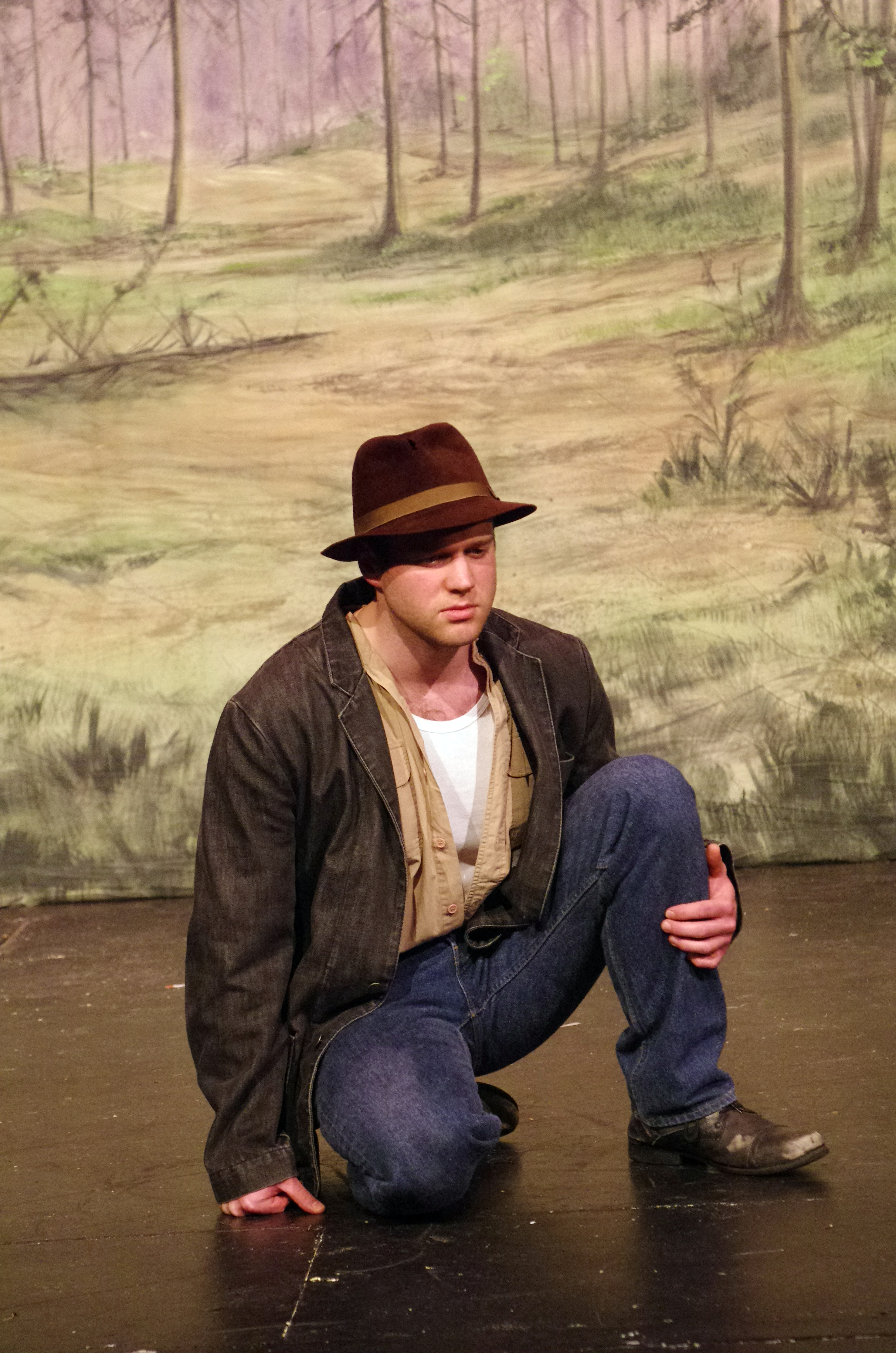 Use scroll bar to view Gallery
Reviews
A student from one of the schools who came to 'Of Mice and Men' wrote a review of our show for their schoolwork . . . The recent performance performed by the semi-professional acting group All and Sundry at the Crescent Theatre starts with George and Lennie strolling exhausted onto the stage. Their coarse American accents and Lennie's child-like behaviour seem incongruous and inappropriate at first, but after a while they appear natural and normal. George, wonderfully played by Oliver Davis, is clearly hugely frustrated by his life, and complains bitterly at every opportunity, but it is Lennie who holds the audience's attention, partly due to his size but also because of his unpredictability and his potential for disaster. As the play progresses he becomes increasingly a liability to those around him, like a young wild animal, and his fate becomes almost inevitable. The powerful ending to the play reminded me of a condemned man dragging his feet slowly towards the gallows - only it is George, not Lennie, who is taking the slow, final walk. The bare, pale stage reflects the empty, colourless lives of the cast and contrasts vividly with the redness "representing danger" of Curley's wife's lipstick and dress and her husband's shirt. The saddest aspect of the story is that the dreams and aspirations of all of the characters are all very modest and potentially achievable, but that a combination of human frailty and misfortune keep them permanently and tantalisingly out of reach. Mention should be made of the supporting cast, who play their roles admirably, even though they are more caricatures than characters. Tanith Parkes is over-the-top as the dim-witted flirt, Curley's wife, Ian Kimberley-Ryan plays her confrontational husband, aggressively looking to prove his masculinity at every opportunity and Congo-born Orphin Nanitelamio is the old, pessimistic Crooks. Credit should also go to eighteen-year old Rory Dulku for the maturity of his performance as Slim, who respects George and Lennie and acts as George's conscience, allowing him to explain to the audience the reasons behind his frustrations.

Of Mice and Men
Crescent Theatre, Birmingham
Thu 02 Oct to Sat 04 Oct
By John Steinbeck Set against the backdrop of the American Great Depression, John Steinbeck's powerful and gripping masterpiece tells the story of two outsiders in search of the American Dream.
Cast
Lennie
Mike Richardson
George
Oliver Davis
Candy
Roger Goddard
The Boss
John Armstrong
Curley
Ian Kimberely-Ryan
Curleys Wife
Tanith Parkes
Slim
Rory Dulku
Carlson
John Edwards-Bick
Whit
John Aubery
Crooks
Orphin Nanitelamio
Creatives
Director
Andrew Corcoran
Producer
Victoria Vollans
Assistant Director
Graham Forbes
Stage Manager
Brian Wiggins
Sound and Lighting
Robert Treen
Back Stage Crew
Jannet Allen, David Green Neil Lane, James McGhie
Wardrobe
Alison Berrisford, Cast Members
Props & Furnitire
Victoria Vollans, Emma Hobday Kel Kelly, Crecent Theatre Cast Members
Set Design
Andrew Corcoran
Carpentry
Barb Allington, Hartle Lane Saw Mill
Set Construction
Brian Wiggins, David Green Victoria Vollans, Martina Ponsonby Alison Berrisford, Cast Members
Scenery Artwork
Roger Goddard
Scenic Cloth
Clifford and Brown
Publicity
Andrew Corcoran, Brian Wiggins
Photographer
Sara Hayden, Roy Miles
Programme
Simon Wicks
Front of House
Victoria Vollans, David Green Martina Ponsonby, Alison Berrisford Vanessa Morgan
Transport
Amdac-Carmichael Ltd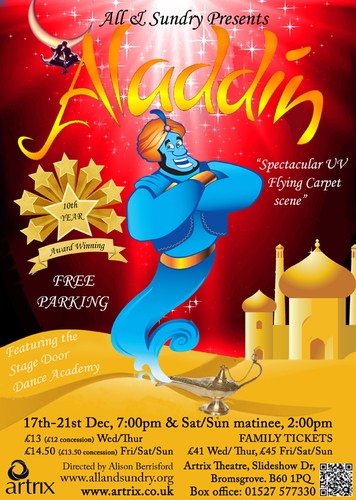 Gallery
A selection of photographs from the show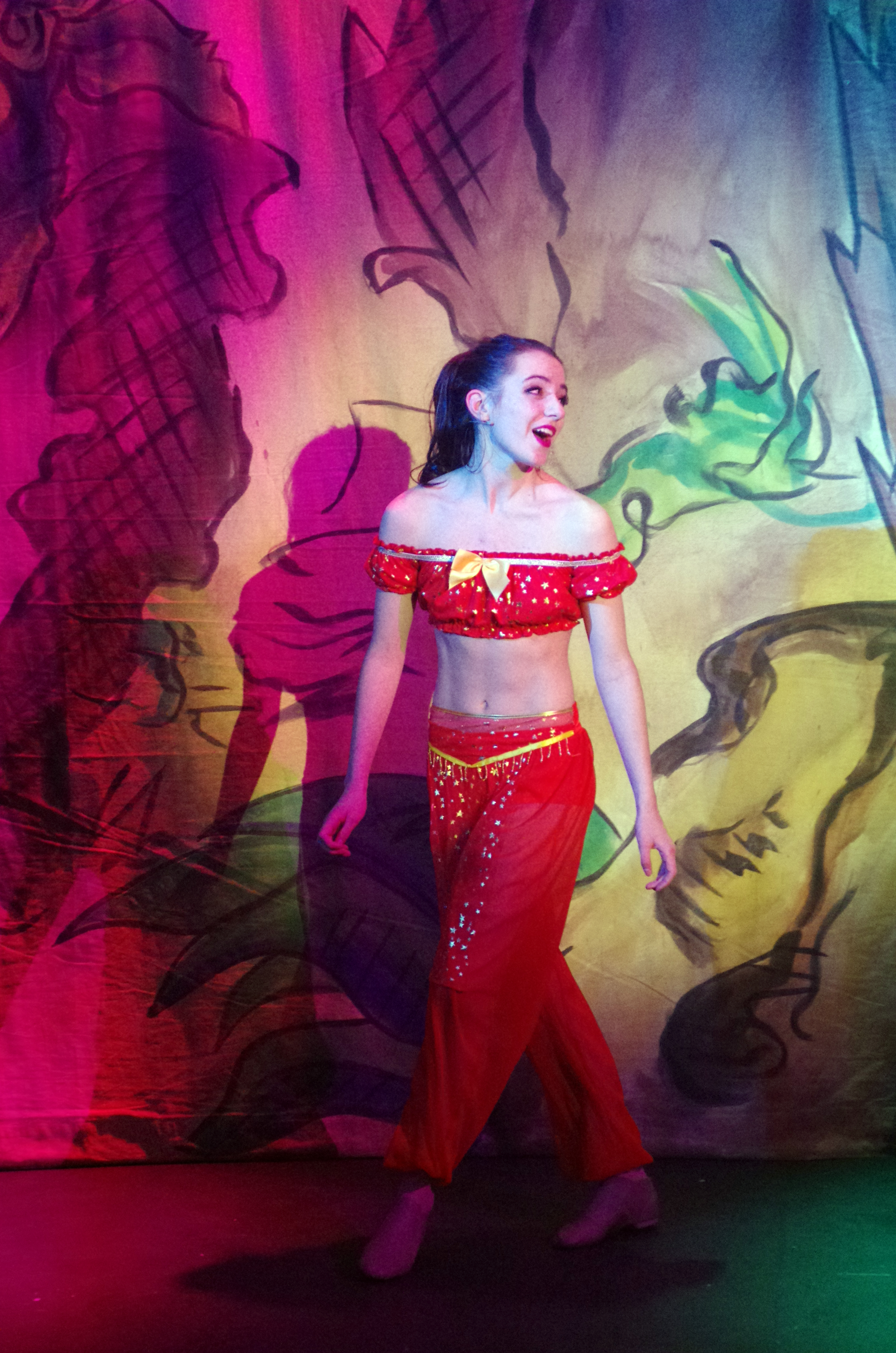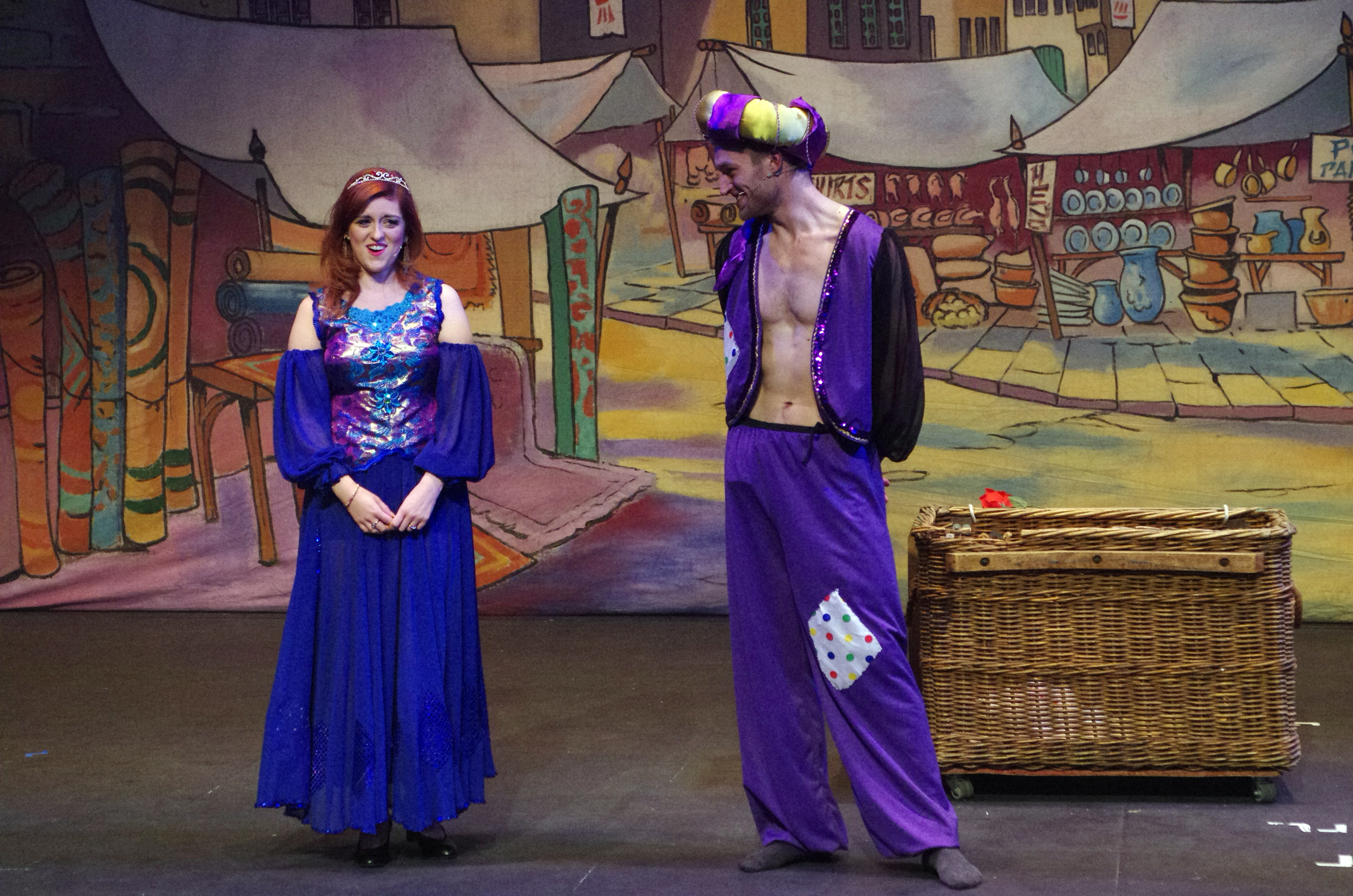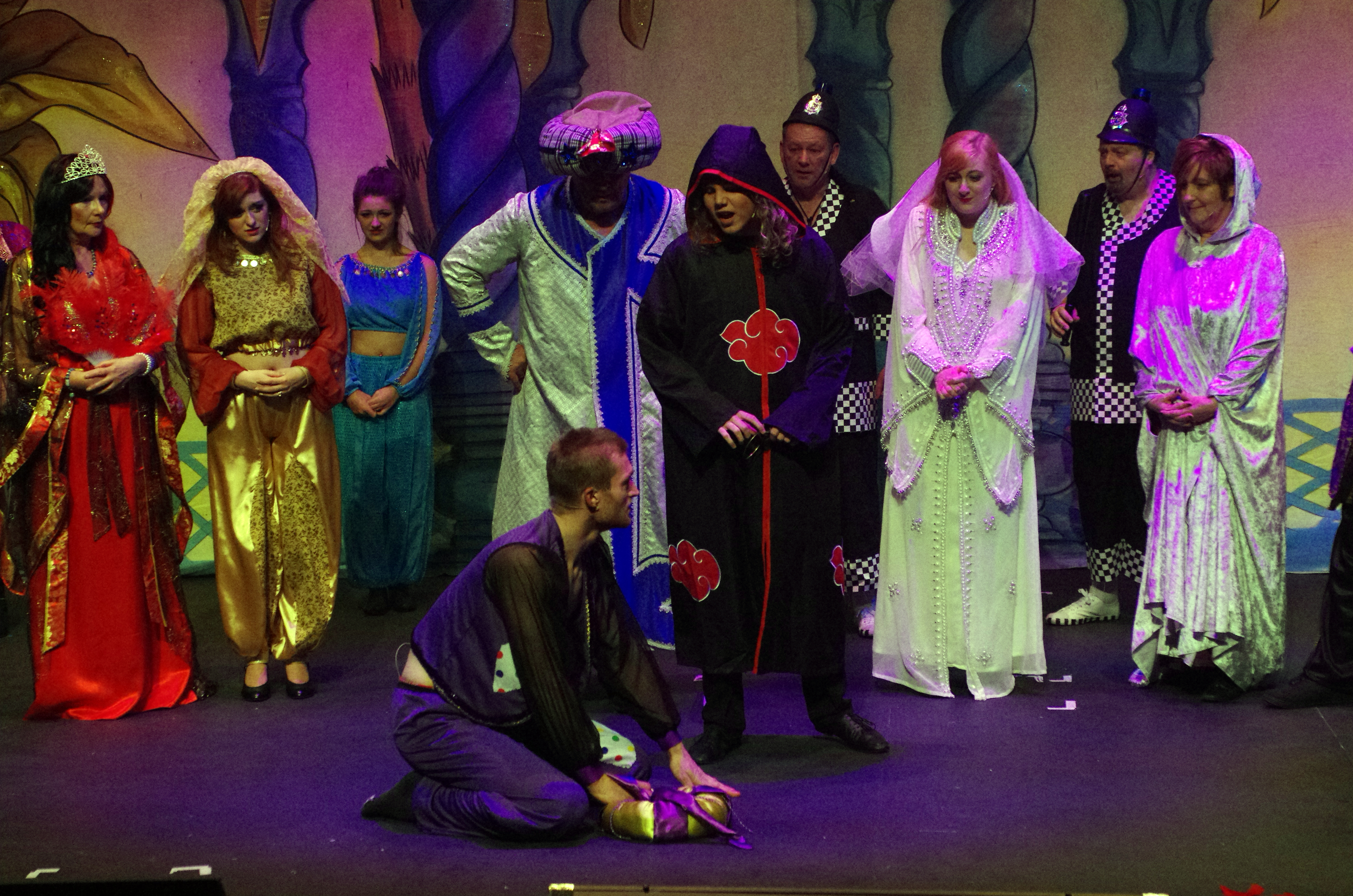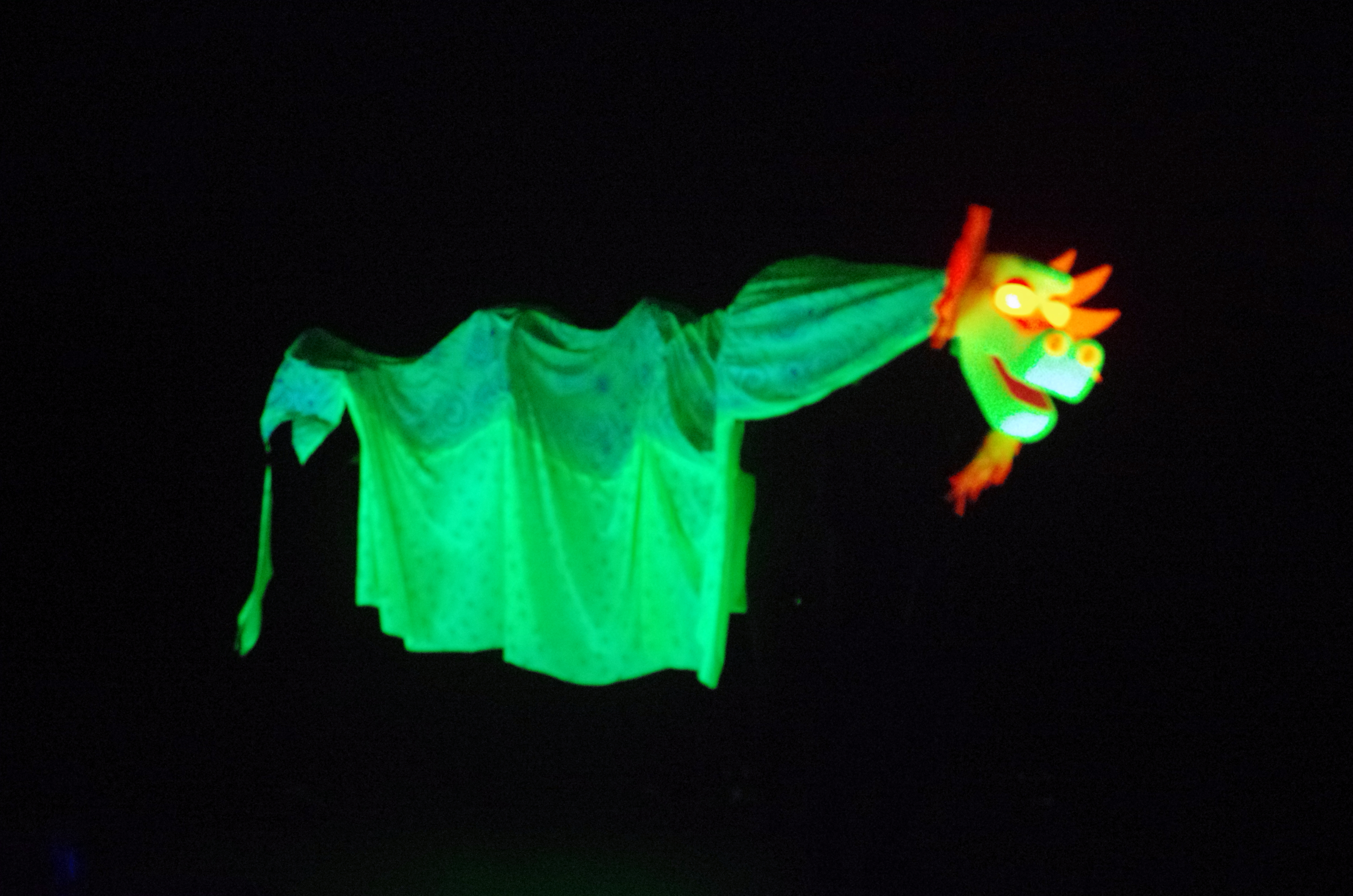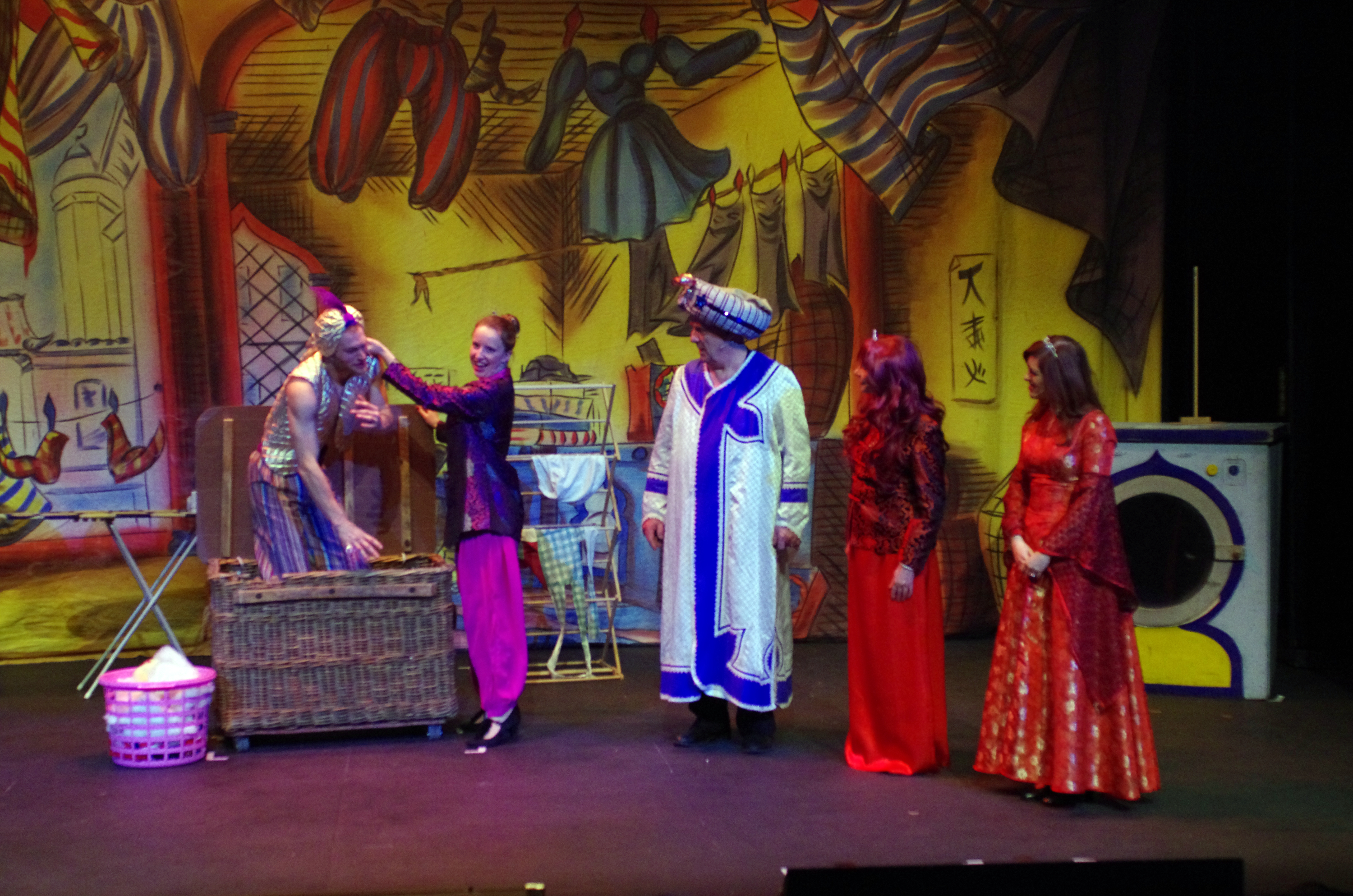 Use scroll bar to view Gallery
Reviews
All & Sundry's Aladdin had everything a great pantomime should have to firmly foster the festive spirit - wonderful one-liners, the odd visual gag here and there, ingenious innuendo and plenty of audience participation. And it was excellently delivered by a highly talented cast - from the opening number by the chorus to the finale, the performance was near perfect. You can always judge a good baddie by the amount of boos generated and Ed Loboda was amazing as Abanazer. He was evil personified and the way he goaded the audience to spark a reaction was incredible. Another important ingredient in a great panto is a daring and dazzling dame and Mark Clayton certainly rose to the challenge there portraying probably the most famous of them all - Widow Twankey. The comedy timing and chemistry between him and Emma Hay as Wishee Washee was faultless. He also had the audience in the palm of his hand and with him all the way. The visual gags in the laundry with the pair and policemen Ping and Pong gave the show some superb slapstick. And as with every All and Sundry panto, the choreography and music was second to none. Among the pick of the songs were Tanith Parkes' solo as Princess Jasmine and the sweet and humorous duet between her and Dave Berrisford as Aladdin. But, the best scenes in the whole production, were the one at the end of act one. The dragon dance, with the use of UV light, was simply stunning and it was then it was taken to a new level when Aladdin rose high above the audience on a small suspended stage. His suit glimmering white, light shining upon him and fluorescent butterflies fluttering by below him, led to an joint intake of breath from the capacity crowd and sent them into the interval buzzing. No pantomime would be complete without camp comedy and James Ralley as The Genie was king of camp. During his performance in the first half, it would have been a physically impossibility to fit any more innuendo into his part. Well done to director Alison Berrisford and her team behind the scenes for putting together another fantastic festive extravaganza at Artrix which, from small beginnings, has blossomed into the first thing many people must pencil into their new diaries when they open them at the start of January. It left myself and others leaving the auditorium who have regularly seen the show each Yuletide already wondering what the group will be bringing us in 2015.

Aladdin
Artrix, Bromsgrove
Wed 17 Dec to Sun 21 Dec
All and Sundry's annual pantomime
Cast
Aladdin
Dave Berrisford
Princess Jasmine
Tanith Parkes
Widow Twankey
Mark Clayton
Wishee Washee
Emma Hay
Abanaza
Ed Loboda
Khazi
Charlotte Clayton
Won-Hung-Lo
George Andress
Peek-A-Boo
Anja Parkes
PC Ping
Dave Healing
PC Pong
Graham Forbes
Emporer
Ken Messenger
Empress
Victoria Vollans
Genie of the Lamp
James Ralley
Spirit of the Ring
Emma Stevens
High Priestess / Merchant / Guard
Joy Williamson
Citizen Cat
Catrin Charmley
Citizen Abi
Abigail Lake
The Reporter / Guard
Max Ponsonby
Jang - Li - Keys
Sam Wicks
Understudy
Joy Williamson
Full Junior Ensemble & Dancers
Rachel Andress
Zack Breakwell
Dani Brennan
Libby Downing
Cerys Gillard
Daisy Green
Alice Grennan
Zoe Griffiths
Emily Haden
Summer Hasker
Harry Longley
Ella Mayo-Higgins
Abigail Hollick
Max Ponsonby
Sophie Smith
Katie Stewart
Ellie Walton
Hannah Ward
Amy Wicks
Sam Wicks
Laury Wiggins
Dancers & Ensemble
Rachel Andress
Zack Breakwell
Alice Grennan
Summer Hasker
Ella Mayo-Higgins
Abigail Hollick
Freya Reeves
Katie Stewart
Ellie Walton
Stage Door Dance Academy & Ensemble
Amber Baxter
Isabella Bush
Megan Guest
Megan Hill
Naomi Hill
Marla Walker
Amy Wicks
Jenni Wicks
Laury Wiggins
UV Puppeteers
Rachel Andress
Dani Brennan
Catrin Charmley
Libby Downing
Alice Grennan
Zoe Griffiths
Megan Guest
Emily Haden
Megan Hill
Naomi Hill
Abigail Hollick
Katie Stewart
Hannah Ward
Jenni Wicks
Laury Wiggins
Adult Ensemble
Catrin Charmley
Megan Hill
Abigail Lake
Emma Stevens
Jenni Wicks
Joy Williamson
Creatives
Director
Alison Berrisford
Producer
Victoria Vollans
Assistant Director & Choregrapher
Martina Ponsonby
Stage Manager
Brian Wiggins
Sound Designer
Simon Wicks
Lighting
Matt Bird, Midland Theatre Services
UV Choreographers
Sarah Charnley, Catrin Charnley
Fly Team Leader
John Edwards-bick
Fly Gallery Crew
Lee Guest, Neil Lane Neil Walker
Back Stage Crew
Jen Onley, David Green Mike Richardson, James McGhie Dennis Teale, Adrian Hill Tim Hull
Ppyrotechnics Operator
Jannet Allen, David Green
Wardrobe
Alison Berrisford
Children's and Princess Jasmine's Costumes
Janine Parkes
Theatrical Scenery
Proscenium Ltd, Lee Guest
Props Master
Lynn Hubbard
Publicity
Brian Wiggins
Poster Design
Alison Berrisford
Photographer
Roy Miles
Lead Chaperone
Ros Winspeare
Chaperones
Jules Evans, Gill Wiggins Valerie Atkinson, Vanessa Morgan Staci Marshall, Su Fletcher Martina Ponsonby, Barbara Treen
Front of House
Ian Kimberley-Ryan, Abi Johns Buffy Johns, Vanessa Morgan Janine Parkes, David Green Howard Vollans, Roger Goddard
Make up
Rianne Hawkins
Programme
Simon Wicks
Additional Original Music
Graham Forbes